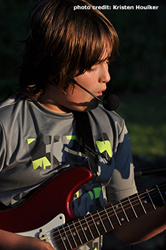 I wanted a song that featured Nick's vocals on two different levels
Boston, Massachusetts (PRWEB) October 20, 2015
The Jewell Thieves, Mike & Nick Jewell, a Boston, Massachusetts, independent alternative rock band, are proud to announce the release Little Dreamer or Day Dream Believer from their upcoming EP, The Back Door Was Open.
The boys look back to the sounds they created on Tainted World and put together another spacey single that is meant to lift your mind into the clouds, but also be a warning to all the dreamers out there of the realists who will crush their dreams and try to grind them down.
"I wanted a song that featured Nick's vocals on two different levels as well," explains Mike Jewell, "We had created interesting lyrics that were fun to sing. In studio though, Nick would sing them two different ways depending on his mood. We decided to mix the two together and found it really worked." Coupled with the lead guitar, reminiscent of late 60's psychodelia, the song has may layers of sounds that create a fantastic journey.
This single, which is available on the Jewell Thieves' website, is also a streaming single, having been released through TuneCore and can be found on iTunes, Spotify, Amazon Music, Google Play and many other stores. You can also hear all their music on the Jewell Thieves Radio Station.
About the Jewell Thieves and Visionary[s]
The Jewell Thieves are a father and son, independent, Boston-based alternative rock band, bringing attention to 11-year-old singer, Nick Jewell and a mix of music styles that make listening to independent music fun. What started out as a side project turned into an opportunity for us to learn, create and entertain friends, family and fans together.
Visionary[s is an outsourced marketing and communications service that creates and executes strategies that generate growth and awareness for a variety of clients and industries.