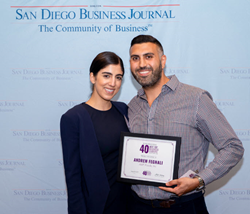 The award is a testament to Little Caesars corporate support, my family, my advisors and mentors, and my employees—for, without them, my success would not be possible. Thank you!" said Andrew Feghali
SAN DIEGO (PRWEB) October 10, 2019
Owner and operator of 14 Little Caesars Pizza franchises, Andrew Feghali, CEO of AMF Foods, Inc. was honored as one of San Diego's NEXT Top Business Leaders Under 40 by the San Diego Business Journal on August 28 at the San Diego Natural History Museum.
In its second year, the San Diego Business Journal's NEXT Top Business Leaders Under 40 awards program was established to recognize the contributions of San Diego's young business and community leaders. "These are people who are rising fast within San Diego's business and civic circles," said Barbara Chodos, President & Publisher. With close to 400 nominations, an independent panel of judges selected 40 winners from a pool of 127 talented finalists. Honorees were selected based on their accomplishments, community involvement, and career achievements.
Feghali is the founder of the restaurant holding company AMF Foods, Inc. The company operates 14 Little Caesars restaurants and has experienced annual sales growth from $1.5 million in 2009 to projected $13 million in 2019. Based on his success, continued growth, and profitability, Little Caesars corporate recently awarded Feghali the 2019 Operational Excellence Award for a 10+ restaurant domestic operator. In addition to his Little Caesars accomplishments, Feghali co-facilitates three Sage Executive Group forums and continues to work on his Ph.D. in Leadership Studies from the University of San Diego.
"With experience and achievements beyond his years, at 33, Andrew is an outstanding young business leader. One who truly deserves recognition as a NEXT Top Business Leader," said nominator, Sage Executive Group CEO Jerry Rollins. "His is an inspiring success story, one that ambitious 20 to 30-year old individuals need to hear, so they too can see it's possible to set their sights on creating a brilliant future as a successful entrepreneur."
In a letter of support, Thomas Deverell, CEO of Esteemed Consulting Inc. said, "Finding business leaders that live to the letter of the character, integrity, and commitment they profess is hard to find. Andrew lives his business and personal life to these standards each and every day. I am impressed by this young man! He is certainly deserving of this recognition."
"San Diego is a vibrant business community, and the achievements of this year's award winners were amazing. It's truly a great honor to be recognized by the San Diego Business Journal," said AMF Foods CEO Andrew Feghali. "The award is a testament to Little Caesars corporate support, my family, my advisors and mentors, and my employees—for, without them, my success would not be possible. Thank you!"
Feghali's 15+ year food industry experience dates to his years as one of the youngest District Managers for PepsiCo - Frito Lay, Inc. Southern California. At 21 he oversaw 20 route sales reps as direct reports and 150 accounts with more than $9MM in annual sales. He led the district to three record-breaking quarters in 2008 during the height of the Great Recession.
Feghali received his Bachelor of Science Degree in Business Administration and Management from California State University, Fullerton in 2007. He pursued his dream of getting his Master of Science in Executive Leadership degree from the University of San Diego School of Business in 2015 and is working towards completing his Ph.D. in Leadership Studies from the University of San Diego.
About AMF Foods, Inc.
Founded in 2014 by Andrew Feghali, AMF Foods is a holding company that owns and operates 14 Little Caesars Pizza franchises with ten locations in Southern California, three locations in Colorado, and one location in Texas. Little Caesars is an internationally recognized brand known for providing one of the world's favorite foods quickly, conveniently, affordably, and using quality ingredients.