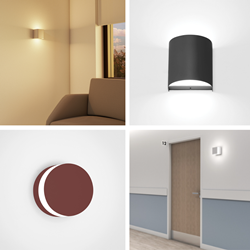 "Bliss Round offers something unique—dramatic views akin to a total eclipse. A round front fascia caps the luminous acrylic form creating a constantly changing light aperture for occupants moving within a space. You get a beautiful and unique view from every angle."David Morrissey, Product Engineer
MILWAUKEE (PRWEB) March 22, 2023
Visa Lighting is proud to announce the addition of four new sconces to their healthcare lighting line. These compact wall sconces are offered with static white or dim-to-warm source options. Static white is available in various color temperatures with optional 90+ CRI. The dim-to-warm LED sources with 90CRI standard give patients, staff, and families increased control of their environment by allowing them to shift to warmer color temperatures as their output is reduced, which creates a cozy and relaxing atmosphere.
All of Visa Lighting's healthcare sconces are easy to clean, ADA compliant, damp location rated, and available in 21 paint colors with an option for an antimicrobial top coat.
Smooth Metal Sconces with Acrylic Top and Bottom Lens
The Naya sconce is a smooth semi-cylinder shape. The truncated cylinder housing provides a non-institutional hospitality feel and is precision rolled from a continuous piece of aluminum by Visa Lighting's skilled manufacturing team.
Anara is square-shaped with a flat front, soft edges, and a modern profile that lets the sconce recede into its environment. The Anara sconce features smooth rounded features that are hand formed in Visa Lighting's Milwaukee, WI manufacturing facility.
Naya and Anara have smooth facias that provide a high-end hospitality look that is easy to clean. Indirect up-and-down light provides soft illumination through the frosted acrylic top and bottom lenses that are slightly recessed for reduced glare.
Geometric Acrylic Forms With 360° Wall Illumination
Bliss Round and Bliss Square are small luminous geometric forms; their painted aluminum front faces offer a unique opportunity for a pop of color. Use them for wayfinding or in hallways for eye-catching illuminated room markers. Both shapes feature seamless acrylic lenses that are easy to clean for healthcare environments.
Bliss Round provides a beautiful circle of illumination from its shallow cylindrical form. The halo of light emitted from a round frosted acrylic lens provides comfortable, easy-on-the-eyes illumination from all angles.
"Bliss Round offers something unique — dramatic views akin to a total eclipse. A round front fascia caps the luminous acrylic form creating a constantly changing light aperture for occupants moving within a space. You get a beautiful and unique view from every angle." - David Morrissey, Product Engineer
Bliss Square produces a simple unbroken square of illumination from its crisp, boxed form. The shallow, frosted acrylic lens provides comfortable, easy-on-the-eyes illumination from all angles.
Ideal for the Patient Room and Beyond
These four healthcare sconces offer a subtle hint of hospitality at budget-friendly prices. These unique luminaires can be helpful tools when designing layers of light in patient rooms to create a soft ambiance or add decorative and functional wayfinding illumination throughout healthcare facilities. Their multiple source options, cleanability, and light output options make them ideal for use in applications such as: patient rooms, infusion suites, nurse stations, break rooms, waiting rooms, hallways, stairwells, and more.
Unmatched Quality for Healthcare Spaces
These new healthcare wall sconces were carefully designed to be easy on the eyes. Quality, comfortable lighting is ideal for healthcare environments, and each of these sconces was created to have a visually pleasing, minimized view of the light source.
Visa Lighting's healthcare line is designed and engineered by their team of lighting experts in Milwaukee, Wisconsin. Their dedication to quality is notable in the commercial lighting industry and particularly the healthcare sector, because of their commitment to designing beautiful luminaires with quality light output as the top priority, carefully crafted to be as comfortable on the eyes as possible. Visa Lighting is also a front runner in incorporating patient-centered design practices into lighting for healthcare spaces. Their entire healthcare lighting line breaks the mold with its non-institutional luminaries that evoke comfort through hospitality-like aesthetics.
Learn more about our healthcare lighting, or view all of our products at VisaLighting.com.