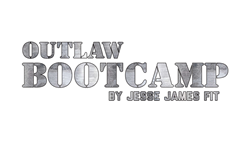 The habits that lead to wellness are learned
Little Elm, TX (PRWEB) September 09, 2014
Jesse James, renown personal trainer and owner of Dallas-area training studio Jesse James Fit, is proud to announce the launch of his group-based fitness training studio, Outlaw Bootcamp. They offer 30 minute indoor training sessions to groups looking for an affordable and convenient program for improving their fitness and overall health. Starting this Saturday and throughout the month of September, in honor of National Childhood Obesity Awareness Month, the public is invited to attend these bootcamp sessions free of charge each Saturday.
"While the program is available to anyone interested in group fitness training, Outlaw Bootcamp was launched in part to better facilitate family-oriented wellness," explains James. "Many of the health challenges faced by today's familes are better tackled as a team, particularly childhood obesity."
As the U.S. Department of Health and Human Services reminds us, one in three American children are overweight or obese, putting them at risk for serious health conditions such as diabetes, high blood pressure and more. In the coming month, James and Outlaw Bootcamp hope to help raise awareness about this serious issue and provide Saturday participants with tools to keep their families healthy and fit.
"The habits that lead to wellness are learned," James continues. "Our bootcamp will work with families to help parents model healthy fitness habits for their children while empowering kids to see health and fitness as fun and rewarding."
Outlaw Bootcamp's new facilities are located at 2765 E. Eldorado Pkwy, Suite 215 in Little Elm, TX 75068. Free sessions will start at 8:30am kicking off this Saturday, September 13th, in addition to every Saturday in September until the grand opening. For more information on Outlaw Bootcamp's programs and special events, click here or call 817.903.1968. For more information on National Childhood Obesity Awareness Month, click here.