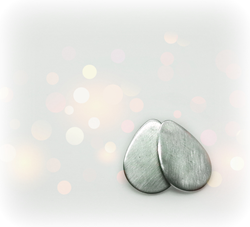 Simple jewelry doesn't have to be boring.
Rutland, Vermont (PRWEB) April 09, 2015
Little Hill Jewelry (http://www.LittleHillJewelry.etsy.com) is pleased to announce the debut of its Teardrop Earring Collection. The company is introducing the collection with the inclusion of a pair of handcrafted Brushed Finish Silver Teardrop Post Earrings in an exclusive Press Bag assembled by The Artisan Group® for GBK's 2015 MTV Movie Awards Weekend Gift Lounge. The Gift Lounge takes place April 10-11, 2015 at an exclusive location in Hollywood, California.
The gifted earrings have a soft, matte texture with a deep, subtle glow. "They are sweetly simple so they don't take away from the natural beauty of the wearer or clash with whatever style she is wearing," says Little Hill Jewelry designer/founder Heather Jean. "The matte finish is perfect for the modern working woman, and they can easily be dressed up or down."
Heather has handcrafted each pair of earrings individually. Press Bag recipients will receive their Teardrop Earrings attached to a Little Hill Jewelry presentation card, tucked inside a silvery satin bag.
The earrings will be available to purchase at LittleHillJewelry.etsy.com following the MTV Movie Awards Weekend Gift Lounge. Other earrings in the Teardrop Collection will include the Hammered Teardrop, the Heart Teardrop and the Gemstone Teardrop.
Heather creates out of her studio in Rutland, Vermont. Her jewelry designs project simplicity, in line with Little Hill Jewelry's philosophy of creating minimalistic, modern Jewelry for women and men. "Simple jewelry doesn't have to mean boring jewelry," she says. "My brand is all about the little touches that complement, but don't distract from, natural beauty."
Heather founded Little Hill Jewelry in 2012. The business quickly found success on the Etsy platform. The company's most popular piece to date is its Infinity Link Necklace, which was worn by Candice Accola (as Caroline Forbes) on episodes 521 and 522 of the CW Network's The Vampire Diaries. "This piece is simple but interesting," notes Heather. "The idea of interconnected circles, the suggestion of infinity and endless connection—I think that really appeals to my customers."
In addition to appearing on The Vampire Diaries, the company's Long Silver and Copper Necklace was worn on the summer 2014 finale of Rizzoli and Isles by actress Karis Campbell (as Carol Wescourt).
Little Hill jewelry has had its designs included in swag bags at GBK's luxury celebrity gift lounges for the 2014 MTV Movie Awards and showcased on Winnkstyle.com, in a feature called "My Latest Obsession is Beauty through Simplicity." Heather has also gifted jewelry to Brandi Glanville (Real Housewives of Beverly Hills) and actress Renee Zellweger. She has also been called upon by Etsy to share her business acumen; in 2014 she wrote for the Etsy Blog on the topic of "5 Ways to Make Tax Time More Serene."
To learn more about Little Hill Jewelry, contact Heather Jean by email using the contact button in this press release. Become a fan on Pinterest (@littlehilljewelry), Instagram (@little_hill_jewelry), Twitter (@llittlehilljewelry) and Facebook (@jewelrygal26). Shop Little Hill Jewelry at LittleHillJewelry.etsy.com.
ABOUT LITTLE HILL JEWELRY
Little Hill Jewelry (http://www.littlehilljewelry.etsy.com) offers a variety of unique, minimalistic jewelry made using high-quality metals and gemstones. Founder/designer Heather Jean handcrafts her designs in a variety of styles, from casual to elegant. Each piece is made to order and can be customized to fit the client's needs and styles.