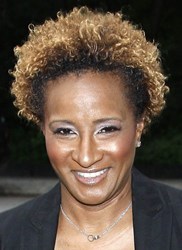 We talked and we're so cool.
Fort Lee, New Jersey (PRWEB) July 21, 2013
After 10 years of ill will brewing between comedic powerhouses Bill Cosby and Wanda Sykes, the two have managed to bury the hatchet. In the latest blog from LittleMissBravo.com dated July 19, 2103 titled, "Bill Cosby and Wanda Sykes Bury the Hatchet After 10 Years," guest blogger Liz Ernst reports on Wanda Sykes's confirmation that the feud between herself and Cosby has finally ended.
The problems between the comedians began after an awkward exchange at the 2003 Emmy Awards when Sykes took her turn at the mike to heckle Cosby after he had made unflattering comments about Sykes's stand-up routine. Sykes hit back at Cosby by taking a dig at the authenticity of "The Cosby Show" as a very unamused fumed in his seat in the audience.
Cosby is an outspoken critic of black comedians who he feels portray blacks in an unsavory light. Sykes is a sharp-tongued comedian with a no-holds-barred attitude when it comes to comedic material. Both have famously fumed over the incident for years.
However, on Bravo TV's "Watch What's Happening" July 18, Sykes told host Andy Cohen that her feud with Cosby has finally ended.
"Cosby and I did have a thing…at the Emmys he was a little flippant," Sykes says. "I think it's because I bum-rushed him a little bit. But we had an event together in Washington, DC, and we talked and we're so cool."
For more information, visit the LittleMissBravo.com website or email info(at)littlemissbravo(dot)com.
About Marble Media LLC:
Marble Media LLC is a creator of high-quality, content-rich blog sites that provide expansive coverage of relevant information to readers who make up a wide range of demographics. The Marble Media LLC team of expert writers covers a wide range of specialties including travel, food, health, fitness, social media, marriage, parenting, technology, weight loss, fashion and much more.
For more information on Marble Media LLC's offerings and advertising opportunities, visit the MarbleMediaLLC.com website, or email sales(at)marblemedia(dot)com.