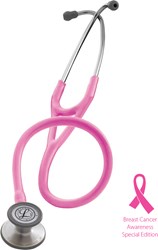 These Littmann Stethoscopes really help complete your "look"
Boston, MA (PRWEB) August 30, 2013
Breast cancer awareness editions of Littmann Stethoscopes are back! Along with two new colors are Olive and Sand tubing with Smoke finishes. The breast cancer awareness edition and new colors apply to two popular models of Littmann stethoscopes.
The Littmann Cardiology III and the Classic II S.E. stethoscopes already come in over 17 unique and colorful combinations. Each stethoscopes tubing is available in a wide variety of colors as well as the metallic parts being offered in unique finishes. Finishes available are the standard steel look with unique finishes consisting of black, copper, gold, rainbow, and smoke.
"It's really great how I've seen the personalization factor increase over the past 5 years in the medical industry. With more choices everyday for uniforms, lab coats, footwear and instruments, these Littmann Stethoscopes really help complete your "look" in the hospital. I actually think psychologically that nurses and doctors while looking good in hospitals will feel good and therefore perform better." quotes Danny Moore, owner of Scrub Couture.
The Breast Cancer Awareness version really shows you care when used in the field to treat patients. Also $5 of every one sold is donated to the American Cancer Society to help support breast cancer awareness. Unfortunately every year, thousands of mothers, sisters, daughters, grandmothers and friends are affected by breast cancer. So help raise awareness and find a cure with a breast cancer pink stethoscope!
Scrub Couture has been a leading online international distributor of today's top medical brands since 2008. Shop with Scrub Couture today and enjoy low prices up front all the time, no silly coupon codes!
Scrub Couture
http://www.scrubcouture.com
34 Monk Street
Stoughton, MA 02072
1-617-841-8481
By Danny Moore