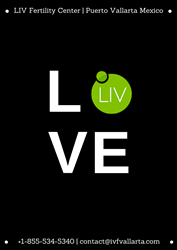 Our team understands the virtue of each specific fertility case, and our programs suited for foreign patients allow us to connect with individual lifestyles, provide clarity and consistency. It's the LIV way.
Puerto Vallarta, Mexico (PRWEB) January 27, 2015
The LIV Fertility Center in Mexico introduces an exceedingly innovative and affordable gender selection program, adding to its all-embracing fertility services. With its leading IVF and donor programs, technologically advanced fertility clinic, and exclusive IVF-FET warranty, LIV has already made the future of reproductive medicine — a reality.
When asked about the company's position as the first and only fertility clinic in Puerto Vallarta, executives at LIV stated, "The expertise of our fertility team combined with a state-of-the-art facility provides a concrete example of how LIV is progressing the future of the fertility industry. As the top fertility destination on the globe, our retreat atmosphere here in Mexico gives intended parents the freedom to use their valuable time in Puerto Vallarta to not only pursue their dreams of parenthood but also unwind and reconnect with life in unimaginable ways."
Gender Selection in Puerto Vallarta —
While the LIV Fertility Center in Puerto Vallarta takes affordability to a new level, every facet of the company's IVF programs embody the terms — modern indulgence, pure emotion and scientific intelligence.
"An essential part of fertility innovation is to unreservedly embrace intended parents. That is the central focus of our clinical considerations and developments. Our gender selection program was designed to inspire parents-to-be, while at the same time superiorly representing a select group of fertility centers across the globe to offer affordable PGD and MicroSort technologies," stated Gisel Soriano, LIV Clinical Manager.
The IVF clinic offers gender selection in Mexico, a progressive technique known as Pre-implantation Genetic Diagnosis (PGD) to reduce the risk of passing certain genetic disorders to the child. The high-tech laboratories at LIV enables the implantation of only selected pre-embryos — increasing the chance of pregnancy.
The company also offers the highly scientifically proven technology of MicroSort to couples who are seeking family balancing for equal gender representation or to avoid X-linked disorders. LIV is among the few fertility clinics across the globe to offer MicroSort technologies.
Fertility Lifeline for Foreign Patients —
LIV Fertility Center is devoted to personalized patient care. Lead fertility doctor, Dr. Horacio Vega, is honored to help intended parents overcome the obstacles to building a family. LIV is quickly earning a respected reputation for offering foreign patients affordable, innovative services, passionate and honest support, and the ultimate retreat destination — a fertility lifeline like no other.
This prestigious exclusivity in Puerto Vallarta is appealing to intended parents across the globe. "We are providing our patients with a simple and transparent way to become parents. Our team understands the virtue of each specific fertility case, and our programs suited for foreign patients allow us to connect with individual lifestyles, provide clarity and consistency. It's the LIV way," stated Mrs. Soriano.
About LIV Fertility Center
The LIV Fertility Center in Puerto Vallarta is a renowned, world-class fertility center that embraces affordability, technical expertise, proven successful outcomes, and the ability to exceed the challenges for every individual case of infertility. Infertility is one of life's most difficult encounters — medically and emotionally. The LIV team is continually striving to implement new infertility technologies and a management structure to embrace patients on their journey to parenthood. The world-class laboratory precisely reflects in the pioneering treatments of In Vitro Fertilization (IVF), Embryo Cryopreservation, Assisted Hatching, and Gender Selection. LIV invites you to revel in a unique cultural experience in Puerto Vallarta with its year-round stunning climate, gorgeous pristine beaches and a dazzling array of world-class attractions. See the Future of Reproductive Medicine.
LIV Fertility Center Mission Statement
Adhering to a set of core values that characterizes our beliefs, the LIV Fertility Center's mission is to provide affordable, trustworthy and successful fertility lifelines to those we serve on all facets of the globe.