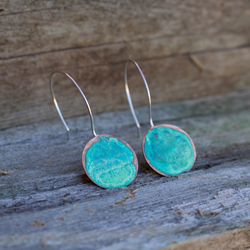 Houston, Texas (PRWEB) January 04, 2017
Liv & B Designs (http://www.livandb.com) is pleased to announce its participation, in partnership with The Artisan Group®, in GBK's invitation-only luxury celebrity gift lounge honoring the Nominees and Presenters of the 2017 Golden Globes. The gift lounge takes place January 6-7, 2017 at an exclusive location in Los Angeles, California.
The handcrafted jewelry company, founded by designer Angela Martin, will be gifting 100 celebrities its individually handcrafted Pools of Grace earrings. Recipients will find their earrings thoughtfully packaged and tucked inside The Artisan Group's signature black swag bag.
Suitable for women of all ages, the earrings feature a circle motif that represents the infinite nature of energy, with no beginning or end. The universal symbol for unity, wholeness, completion and sacred space, the circle has a feminine reference and a connection to love, harmony and energy. It is Angela's hope wearers will benefit from these positive attributes in this ever more hectic world.
Angela encourages recipients to, "Take a long look at these dreamy blue circles, close your eyes and escape to the pools of the water, calmly taking in your inner reflection. Finding Grace in your everyday life, Liv and be Graceful."
Each pair of Grace Earrings has been hand painted, patinated and sealed with an archival, jewelry grade wax to protect the carefully applied finish. Ear wires are also handcrafted from sterling silver wire.
The Pools of Grace Earrings retail for $48.00 and are available to custom order at livandb.com.
Custom and personalized jewelry is Liv & B Design's sweet spot. Every piece is handcrafted with the intention of creating a deeper meaning for the wearer. "I design pieces that are as individual as the person who will ultimately wear them," says Angela, "I hand pick my stones for quality and the vibe they give off. I believe that people look for meaning and connection when purchasing handcrafted jewelry."
Angela's mother was a talented stained glass artist and passed the crafty gene on to her daughter. Angela began her career as a jewelry designer in Anchorage, Alaska in 2006 but Liv & B Designs really took off in 2016, with a re-branding and appearances at the Little Black Dress and Jewelry Event in Katy, Texas, where she resides, and a feature in Katy/Fulshear Lifestyles Magazine. Currently, Angela is collaborating with Katy-based Scout and Molly's on a spring jewelry line.
To learn more about Liv & B Designs, click here and contact Angela by email using the Contact button at the top right of this press release. Become a fan on Twitter, Pinterest and Instagram.
For more information about The Artisan Group, visit theartisangroup.org.

Neither Liv & B Designs, nor The Artisan Group are officially affiliated with the Golden Globes or The Hollywood Foreign Press Association.
ABOUT LIV & B DESIGNS AND ANGELA MARTIN
Liv & B Designs (http://www.livandb.com) offers one-of-a-kind and customizable handcrafted jewelry that can be worn every day and for pure luxury. Founder and maker Angela Martin is a busy mom of two. She loves to create jewelry that is inspired by her everyday world and the places she visits. She is especially drawn to the ocean and nature. Every piece of Liv & B Designs jewelry is carefully handcrafted by Angela with her full attention and care.
Liv & B Designs is a proud member of by-invitation only The Artisan Group.
ABOUT THE ARTISAN GROUP®
The Artisan Group® (http://www.theartisangroup.org) is a premier entertainment marketing group dedicated to representing small business artisans at the best celebrity gift lounges and press events. The organization provides a collective sampling of handcrafted products to celebrities and members of the press at top luxury gift lounges such as those leading up to The Academy Awards, The Golden Globes, The MTV Movie Awards and The Primetime Emmys.
The Artisan Group also coordinates product placement of its member's handcrafted products on such hit television shows as Empire, Scandal, The Voice, How To Get Away With Murder, The Vampire Diaries, Days of Our Lives, The Young & The Restless, Modern Family, Jane The Virgin and Law & Order: SVU, among others. Membership in The Artisan Group is juried and by invitation only.
For press inquiries regarding The Artisan Group, please visit theartisangroup.org or email press[at]theartisangroup.org.