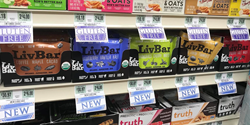 Customers have really shown their appreciation for a healthy, organic plant-based bar option.
PORTLAND, Ore. (PRWEB) December 12, 2019
LivBar expands its national presence moving into the new year with the announcement of the Oregon-based company's pickup in Bristol Farms, Kings Food Markets, Balducci's Food Lover's Market, and Pete's Fresh Market. The organic energy bar company has seen tremendous customer demand since the beginning of 2019, and the addition of these four regional chains will bolster LivBar's presence in Southern California, New Jersey, Maryland, Virginia, New York, Connecticut, and Illinois.
"It's been such an amazing year. Customers have really shown their appreciation for a healthy, organic plant-based bar option, and the addition of such well-respected stores to round out 2019 is inspiring," said LivBar CEO Wade Brooks. "We're looking forward to building strong relationships with all four retailers to support their stores and provide their customers with the best superfood products on the planet as we move into 2020."
LivBar has seen a great deal of success in 2019 gaining shelf space in stores focused on making healthy, organic options available to their customers. In the last few months, LivBar has also announced pickup by 21 Whole Foods Stores in the Pacific Northwest and all 77 Fresh Thyme Markets, in addition to winning a slew of awards including Entrepreneur of the Year, Most Mindful Consumer Packaged Good, and Oregon Organic Processor of the Year.
"Today's customers are looking for more than a great tasting energy bar, and today's bars need to go beyond healthy. They need to provide the benefits of superfoods, be nutritionally balanced, organic, plant-based, good for the whole family, and good for the planet. That's in part why LivBars come in one of the industry's only compostable wrappers," said Jan Johansen, LivBar Founder and Nutritionist.
Bristol Farms will add 13 Southern California stores to LivBar's portfolio, while Balducci's will add 11 and Kings will add 25 in the Northeast United States. Pete's will add 15 stores, all in Illinois. All four chains will stock all five LivBar flavors. At time of release, bars are already on shelves and available for purchase at Kings, Balduccis, and Pete's; bars will be available at Bristol Farms in January 2020.
LivBars are currently available in 30 states, online at Amazon Prime, Amazon Subscribe and Save, direct from the LivBar website (http://www.livbar.com), and in hundreds of stores including Erewhon, New Seasons Markets, Market of Choice, Zupan's, Roth's Fresh Markets, Fresh Thyme Markets, and Whole Foods (beginning in February 2020).
LivBar is distributed nationally through UNFI, KeHE, McLane, and DPI Specialty Foods.
About LivBar®
LivBar was founded in 2012 in Salem, Oregon, by two nutrition and fitness experts, Jan and Gabe Johansen. Jan was challenged to find any truly healthy energy bars she could recommend to her clients, so she created the LivBar recipes. LivBars are crunchy and chewy and come in five delicious plant-based superfood flavors: Coffee Maple Cacao, Raspberry Kale Maca, Blueberry Vanilla Kale, Ginger Lemon Turmeric, and Lemongrass Cherry Matcha. For more about LivBar, visit LivBar.com or check out our social media channels: Facebook, Instagram, Twitter, & LinkedIn.
About Kings Food Markets
Kings is an upscale gourmet food market started in 1936 with the humble purpose of finding the freshest available produce. Today, Kings is recognized as a pioneer within the specialty food industry and provides a unique shopping experience paired with the highest quality foods. Kings currently has 25 stores spread across New Jersey, New York, and Connecticut.
Balducci's Food Lover's Market
Specialty food retailer Balducci's was started in Brooklyn in 1916 by "Pop" Balducci and has grown into a gourmet powerhouse, specializing in hand-selected meats and cheeses, restaurant-quality prepared foods, and fresh baked goods within 11 store locations in Maryland, Virginia, New York, and Connecticut.
About Bristol Farms
Bristol Farms is a high service, premium food retailer with a strong emphasis on fresh product including premium and organic produce, fresh bakery, full service premium meats, fresh fish, artisanal cheese, large assortment of ready to eat meals, premium wines and craft beers, and a broad assortment of specialty and conventional food items. Bristol Farms' iconic stores and superior food products have served the greater Los Angeles market since 1982.
About Pete's Fresh Market
Pete's Fresh Market is a family owned and operated business that believes in giving you the best quality products for the best value. Pete's got its start in the early 1970s as a small, full-service produce stand on the south side of Chicago and has not strayed far from those humble beginnings. Although produce is still very much the heart and soul of the company, Pete's Fresh Market also boasts a full service kitchen, bakery, café, deli, and butcher shop with dedicated and artistic staff. Finally, beyond the basic pantry essentials, Pete's also stocks top quality groceries and imports, including a wide array of international, gluten free, and organic products.
If you would like more information, please call Jessi Freitag, Marketing and Operations Director at (971) 200-5257