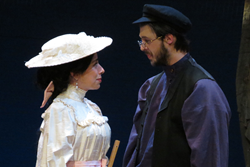 Fayetteville, AR (PRWEB) April 15, 2015
The University of Arkansas Department of Theatre is ending their 2014-2015 Mainstage Series with one of the all-time classics. Performances of Anton Chekhov's "The Cherry Orchard" will begin April 17.
The play revolves around an aristocratic family who has fallen on hard times and is facing an impending auction of their estate. There is a way out, but it means cutting down the cherry orchard. Will they save their beloved orchard and lose the estate or make a difficult decision to save their home?
The last play written by Russian playwright Anton Chekhov, The Cherry Orchard is a masterful blend of emotion and humor that explores themes of love, change, and the definition of home. The beautiful classic is directed by Kate Frank (As You Like It, Company), Visiting Instructor in the University of Arkansas Theatre Department.
Performances are at 8 p.m. on April 17, 18, 22, 23, 24 and 25 and at 2 p.m. on April 19 and 26. All performances are in the University Theatre at the Fine Arts Center on the University of Arkansas campus. Ticket prices are $20 for adults, $15 for seniors and faculty/staff and $5 for students. The performances on April 22 and 23 are free to students with a valid University of Arkansas ID.
Patrons are strongly recommended to make reservations in advance. In order to get their free tickets, tickets are available online or by calling the box office at (479) 575-4752. U of A students must make their reservations in person at the box office. The box office will be open from 11:45 a.m. to 1:45 p.m. Monday through Friday between April 13 and 24 and two hours prior to each performance.
The University of Arkansas Department of Theatre has been providing exciting and affordable live theatre for more than 60 years. They combine a first-rate theatrical education full of hands-on experience with a wide selection of titles to challenge their students and delight the community. The Theatre Department produces eight to 10 shows each year: four large-scale productions at the University Theatre and four to six smaller shows in the Studio Series. Shows range from new works to classic favorites, from period pieces and Shakespeare plays to Broadway musicals. For more information, visit their website at http://theatre.uark.edu/.