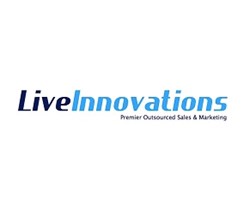 The fact that we are a local British firm defy's the traditional negative views of outsourcing as we contract locally reinvesting in the UK economy.
London, UK (PRWEB) October 28, 2013
Live Innovations is an outsourced sales and marketing company located in Central London. The firm have seen the demand for their services grow rapidly throughout 2013 suggesting many businesses are seeing the benefits outsourcing can offer.
Live Innovations confirmed the demand for their sales service increase by 37% in quarter one of 2013 and a further 14% in the second quarter of the year. The firm are on target to report an annual average growth of 19% by the close of 2013 defying the reported negatives surrounding outsourcing in the UK.
Live Innovations suggest marketing as a whole is becoming more complex; digital marketing, relationship marketing and green marketing are just a few areas that have emerged in recent years. Couple these new marketing communications with the rise of social media, and for many SME's, this can be all too much to handle internally by one marketing department.
About Live Innovations: http://www.liveinnovations.co.uk
As Britain exits the double-dip recession, many companies cannot afford to take on staff for these new marketing roles or invest in developing expertise. As a result of this increasingly complex field, 2014 will see a rise in outsourcing these roles to companies who are experts in their area. Tom Harris at Live Innovations in Central London says, "Budgets are getting tighter for many businesses and they need to know that the money they are spending on marketing is going to generate a return on investment. The fact that we are a local British firm defy's the traditional negative views of outsourcing as we contract locally reinvesting in the UK economy - meaning no jobs are lost through off shoring."
BDM's and Marketing Managers report that with so many tools at their disposal to reach customers, it can be overwhelming and difficult to measure results. Live Innovations describes an increase in UK businesses turning to outsourced services in order to manage their campaigns more effectively, or act as an extension to complement their internal marketing efforts.
Live Innovations say one mistake many companies make is attempting to get their marketing teams to take on new advertising channels or manage sales in addition to their core responsibilities. This results in poorly managed campaigns and valuable man hours lost in research.  The unseen issue is that without a clear defined marketing strategy it will not yield the desired result. 'Often by the time a client meets with us they have thrown a huge amount of money and time into new marketing avenues. We endeavour to ease that frustration and offer a tailored outsourced service that will guarantee results and simplify reporting ROI'.
Live Innovations is an outsourced agency who specialise in sales, acquisitions and marketing.  As outsourcing becomes a part of a company's marketing strategy, knowing who to trust is crucial. Live Innovations has been specialising in outsourcing for national clients for the last year and understands that productivity, regular reporting and consistency in communications plays an important factor in building trust with new clients and their customers.
'We know that outgrowing and outperforming competitors this year will revolve around providing high quality results for our clients. A growing list of companies will be looking to outsource their sales and marketing to a business that can add a personal touch and experience. We plan to ensure we are their first port of call,' adds Live Innovations' MD.