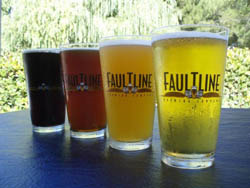 Sunnyvale, CA (PRWEB) October 01, 2014
Looking for something to do this fall? Faultline Brewing Company has some exciting events that customers are sure to enjoy. Faultline will be re-opening their doors to football Sunday crowds starting Sunday, Sept. 7 and celebrating Oktoberfest all season long.
Open at 9:30 a.m., Faultline invites football fans to come check out their favorite teams and see them duke it out. The bar has over 20 TVs (with sound) and Faultline has the DIRECTTV NFL Sunday Ticket.
Fans who are unable to come to Faultline because they have tickets to Levi's Stadium should check out the Breakfast Buffet/Shuttle Package that Faultline offers. Purchase tickets online at http://www.faultlinebrewing.com or at the location from any staff member. The package includes free parking in the lot, a delicious breakfast buffet (approx. $30 value), and a safe and comfortable ride to and from the stadium. There are no long public transportation lines and no parking hassle! Ticket sales end one week before the game. Gather friends for an exciting day!
It's that time of year again; Faultline is celebrating Oktoberfest. Enjoy specialty-themed beers, the innovative and excitingly themed menu, which all revolves around the traditional Oktoberfest celebration. Faultline has taken much pride in their beer and the award-winning recipes for their delicious hand-crafted beer, so why not honor it with its own holiday? Guests continue to rave about it and claim that Faultline does Oktoberfest better than anybody else around.
"They really go all out," says Christopher Iller, a Faultline customer. "Everything from the decorations, to the live music, the menu that caters to traditional German cuisine, and their beer, that's what it's all about. Faultline's Oktoberfest beer is to die for. If you haven't tried it, you need to."
Visit Faultline Brewing Company this season to watch the restaurant transform, and guests will feel like they are right there in Germany.
About Faultline Brewing Company:
Faultline Brewing Company is a brewery, restaurant and sports bar located in the heart of Silicon Valley in San Jose. Offering traditional comfort foods like pot roasts and St. Louis BBQ ribs, this San Jose family restaurant also features unique dishes like its famous tempura Ahi Rolls. Beer is handcrafted on-site and features more than 20 ales and lagers throughout the year. Faultline Brewing Company also offers live music, catering services, outdoor dining and one of the best happy hours. For more information, please visit their website.