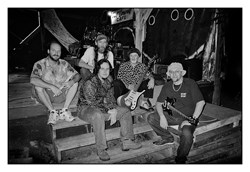 Houston, TX (PRWEB) January 30, 2014
There's an old saying that says, "Dance with the one that brung ya!" After 25 years, The Hightailers are still dancing in the sand at Last Concert Café. The Hightailers will celebrate their 25th anniversary of the longest-running house band on Thursday night residency in Houston with a special show from 10 p.m. to 2 a.m. Thursday, Jan. 30 at Last Concert Café.
The Hightailers have been performing distinctively Houston music at Last Concert Café for a quarter century now. They have been known to play into the wee hours of the morning. While Little Screamin' Kenny Blanchet brings a wealth of influence from the earliest days of rock and blues, Alan "Dogman" Miller has been known to pen thoughtful, melodic songs which never fail to bring the crowd to its feet. The band is rounded out by veteran Houston drummer Randy Woodard, Randy Wall on keyboards and the inimitable Jimb Jackson on bass.
Last Concert Cafe owner Dawn Fudge, known as Mama Dawn, has created a very special venue known for its good food, great music, and unique atmosphere. A hidden garden gem in the warehouse district, Last Concert Café has an atmosphere of family and community that permeates throughout the venue amongst its patrons.
Come celebrate 25 years with The Hightailers on Thursday night and dance into the future together with them. The Hightailers will continue to play every Thursday at Last Concert Café from now on.
Last Concert Café also hosts a fresh and electric take on community support each week with Downtown Tuesdays. Each Tuesday, Last Concert Café will play host to an event that is fun and affordable. Guests will see two musical acts and enjoy drink specials all night for just a $6 cover. This night is designed for sustainability as the community can get out for less while supporting the live music scene. Downtown Tuesdays will be held from 8-11 p.m every Tuesday at Last Concert Café.
Last Concert Café is located at 1403 Nance St., Houston. Find out more about Last Concert Café by visiting http://www.lastconcert.com.
About the Company:
Whether wanting to enjoy great food or live music and entertainment, the Last Concert Cafe is the place to be. The Last Concert Cafe is one of Houston's oldest (and definitely friendliest) live entertainment venues. Located in the historic warehouse district of downtown Houston, they have been serving up great music and delicious Tex-Mex since 1949!