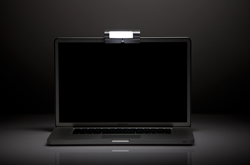 Miami Beach, Florida (PRWEB) May 20, 2016
Chatlight, the leading gadget in mobile lighting, was featured on the May 4th episode of The Today Show during a segment highlighting the latest in tech-related graduation gifts. Launched late last year, the Kickstarter-funded device has sold out of units within the first few months of being in business.
Developed by Henry Geddes in 2010, the inspiration for Chatlight stems from his career in photography and his knowledge and expertise of photography and lighting equipment. Knowing that there was a market of millions of professionals using Skype and other similar video chatting software, Henry sought to create a device that would assist in creating beautiful, clear imagery. His ultimate goal was to bring the quality of professional studio lighting into user's homes. After partnering with Ian Shiell, the duo spent several years developing dozens of prototypes before finally launching in 2015. The pair launched a Kickstarter campaign, which proved extremely successful: they raised nearly $60,000 in just 45 days.
The small, lightweight device is easy to use, portable and affordable. Chatlight is compatible with nearly any mobile device including iPads, laptops and iPhones. Users choose their desired brightness intensity with the simple flip of a switch, and rechargeable device can be plugged in to any standard wall outlet or USB port and reached a full charge in just 15 minutes. Demand is high for this simple yet powerful at-home lighting tool.
In addition to last week's appearance on The Today Show, Chatlight has also been featured on CBS News' Innovation Nation, hosted by Mo Rocca. This recent nationwide coverage, combined with Chatlight's availability on The Grommet, has caused the handy lighting tool to completely sell out of it's units within the first few months of it's launch.
Chatlight is an innovative technology in that it offer's it's users something that until now, was out of their reach. When it comes to creating a good, high-quality image, any professional photographer will tell you that lighting is the most important component. Chatlight aims to take that one step further, and apply state-of-the-art LED lighting to not just professional photography, but now everyday images.
With more than 300 million Skype users, and an ever-growing increase in Snapchat, Periscope, Meerkat and Facebook Live users, never before has there been such a high demand for tools that can increase image quality. Purchase one today and see the Chatlight difference for yourself!