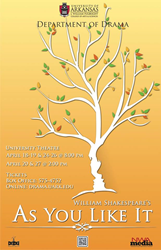 All the world's a stage, and all the men and women merely players: they have their exits and their entrances; and one man in his time plays many parts, his acts being seven ages.
Fayetteville, AR (PRWEB) April 11, 2014
The University of Arkansas Department of Drama has one last show in the 2013-2014 season. They will be presenting one of William Shakespeare's most popular comedies, "As You Like It," at the University Theatre from April 18-27.
"As You Like It" features a cast of colorful characters who embark on a number of romantic adventures. This beloved comedy takes place in the Forest of Arden and is full of laughs as four couples juggle love, confusion, and one gender-bending disguise. The play is also the origin of such famous phrases as "all the world's a stage and "too much of a good thing."
The Department of Drama's production is 90 minutes long and features music and dancing as part of the show. It is directed by Morgan Hicks, and the cast is made up of both graduate and undergraduate students. The scenic design is by guest designer Adam Miecielica, a University of Arkansas alumnus.
The Department of Drama encourages all those interested to come out and enjoy the show. Performances are at 8 p.m. April 18-19 and April 23-26 and at 2 p.m. April 20 and April 27. Tickets are $16 for adults, $14 for seniors and University faculty and staff, $7 for children.University students with a valid university ID get free tickets for the Wednesday and Thursday performances and pay $3 for all other performances. Tickets are available for purchase at http://drama.uark.edu/season/2013_2014.php or by calling 479-575-4752.
The University of Arkansas Department of Drama has been providing exciting and affordable live theatre for more than 60 years. They combine a first-rate theatrical education full of hands-on experience with a wide selection of titles to challenge their students and delight the community. The Drama Department produces eight shows a year: four large-scale productions at the University Theatre and four smaller shows in the Studio Series. Shows range from new works to classic favorites, from period pieces and Shakespeare plays to Broadway musicals. For more information, visit their website at http://drama.uark.edu/.