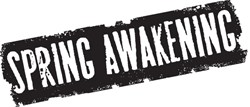 Fayetteville, AR (PRWEB) January 29, 2014
The University of Arkansas Theatre will kick off the 2014 season with a production of "Spring Awakening", winner of eight Tony Awards and written by Steven Slater.
"Spring Awakening" will open on Feb. 21 and run through March 2 at the University Theatre. Shows will be held at 8 p.m. on Feb. 21, 22, 26, 27, 28 and March 1. Shows will also be held at 2 p.m. on Feb. 23 and March 2.
"Spring Awakening" was written by Slater, with music by Duncan Sheik. The rock musical is based on an 1891 German play by the same name. "Spring Awakening" was banned in Germany shortly after its original release because of its explicit sexual content. The musical was developed by Slater and Sheik in the late 1990s and opened on Broadway in 2006. It went on to win eight Tony Awards, including Best Musical and Best Original Score.
The musical is set in late-19th century Germany and tells the story of a group of teenagers learning about sexuality and experiencing sexual issues for the first time. The show contains adult language and sexual content and is strongly recommended for mature audiences.
The University of Arkansas Theatre's production of "Spring Awakening" is directed by special guest artist Shana Gold, whose directing credits include The Kennedy Center, New York Theatre Workshop, Urban Stages and Northwest Arkansas' own TheatreSquared. Other production credits include musical direction by Jeannie Lee, choreography by Gail Leftwich, scenic design by Michael J. Riha, costume design by Patricia J. Martin, lighting design by Shawn Irish and sound design by Jesus Rivera.
Wednesday and Thursday performances of Spring Awakening can be seen at no charge to UA students with a valid university ID. Individual show tickets are on sale between $7 and $16 for the general public. Call the ticket office to reserve seats at 479-575-4752 or visit http://drama.uark.edu to purchase tickets online.
About the company:
The University of Arkansas Department of Drama has been providing exciting and affordable live theatre for more than 60 years. They combine a first rate theatrical education full of hands-on experience with a wide selection of titles to challenge their students and delight the community. The Drama Department produces eight shows a year: four large-scale productions at the University Theatre and four smaller shows in the Studio Series. Shows range from new works to classic favorites, from period pieces and Shakespeare plays to Broadway musicals.