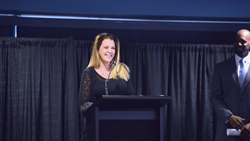 'Right now, I have about two and a half years sober and expecting my second child,' Jerri said in her speech. 'My breaking point where I realized I needed to find a program was when I realized I went a full month without seeing my first child. '
Detroit, MI (PRWEB) June 02, 2015
On March 19th, 2015, LiveToBeSober.org held an informative luncheon called "Fighting Addiction Together" in the Hall of Legends at Detroit's Ford Field. Hosted by former Detroit Lions wide receiver and motivational speaker Herman Moore, the goal of the conference was to raise awareness about the state of addiction in today's society, highlight the benefits of effective professional rehabilitation programs. It also was held to inform the attendees about the options that are available to them in regards to the recent legislature concerning the health care system in the US.
"It's always good to see lives change," commented Live To Be Sober affiliate Per Wickstrom. "When those who are struggling with addiction hear the stories of others who have been where they are and have made it out on the other side, it gives them hope in a hopeless situation. It shows them that they, too, can live healthy and productive lives without the constraints of drugs or alcohol."
Around 100 guests attended the "Fighting Addiction Together" luncheon, including locally and nationally recognized pastors, minister and bishops, members of law enforcement and civic leaders. Among the speakers at the event was a young woman from Freemont, NE by the name of Jerri Bendig. Jerri told the audience about her problems abusing methamphetamine, and how she was able to turn her life around.
"Right now, I have about two and a half years sober and expecting my second child," Jerri said in her speech. "My breaking point where I realized I needed to find a program was when I realized I went a full month without seeing my first child. That was a very big moment for me. My future plans are to hopefully keep doing things like this, speaking to people, telling my story. Just helping as many people as I can."
Other guest speakers included Bishop William Murphy, Detroit Police Assistant Chief of Police Steve Dolunt, and Dr. James Lawrence Jr. Along with the complimentary luncheon, guests received gift bags with educational brochures and DVDs, Parent-Child promissory notes regarding abstinence from substance abuse, home drug tests and other tools that are helpful in giving guidance to those who may be struggling with addiction. A raffle for executive suite seats for a Detroit Lions home game was also held.
For more information see our main website. See the full video here: https://www.youtube.com/watch?v=jVBvBNzkZfg