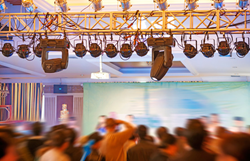 We've always believed that video is the ultimate mass media platform capable of projecting a company's identity to the world.
Jacksonville, FL (PRWEB) April 23, 2014
Multiverse Media Group, a video production company based in Jacksonville, Florida specializing in getting results through video for its clients, has announced a significant upgrade to its live production equipment inventory to handle a "wider range of live production services." The firm has added new 4k cameras, switchers and recorders, while improving its overall equipment infrastructure to handle a wider range of live jobs from live video production, live video streaming, corporate event management, corporate event planning and corporate A/V to church functions, live music videos and many more live video related services.
Positioned as "video experts that produce results," the team at Multiverse Media Group offers fast and affordable video production services for the myriad of clients they serve, exhibiting friendly, honest and ready-to-help personalities no matter what the situation. With both Google and Bing reporting that sales have a potential of increasing some 73-percent through the use of video in marketing, Multiverse has taken advantage of this through a plethora of services including corporate videos, TV commercials, landing-page videos, training videos, infomercials and beyond.
"Our live event video production services do many things for our clients," explains Micha McLain, Multiverse founder, editor and "tech guru." "We present their message, establish their voice and identify their brand. We've always believed that video is the ultimate mass media platform capable of projecting a company's identity to the world. Now, with our major live event video production equipment upgrades, we are making live video production more affordable than ever for our clients."
The upgrade to Multiverse Media Group's video services and live production equipment is set to enhance the company's already formidable arsenal of video & lighting gear and professional production crews. From teleprompters to field audio kits, fresnel lighting, cameras, lenses, grips, jibs and more, Multiverse offers an extensive inventory of gear for audio/video professionals seeking that special touch. Further, the company offers a production crew staff that has, according to Multiverse representatives, worked on just about every kind of set – from motion pictures, live corporate jobs, to live events for broadcast television. Their crew encompasses directors, producers, camera operators, gaffers, grips, sound recordists, teleprompter operators, on set D.I.T, post production, and complete technical support crews.
About Multiverse Media Group
From corporate and live video production to national brand awareness campaigns, Florida-based Multiverse Media Group offers a broad client base an encompassing roster of services including video marketing/website videos, superior SEO solutions, website design, marketing/branding, video equipment rentals, production studio facilities and more. The company is located at 11655 Central Parkway Suite 302, Jacksonville FL, 32224 and can be reached by calling (904) 701-3016.
For more information visit http://www.multiversemediagroup.com.