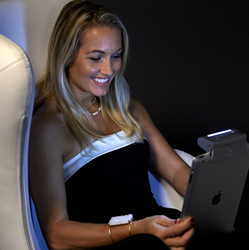 Miami, FL (PRWEB) April 22, 2016
Chatlight, the leading lighting device for live video, has seen a dramatic increase in interest from the Periscope community, resulting in the creation of the Chatlight Refersion Program.
Launched in 2014, the live video streaming application allows users to broadcast to their audience; viewers can interact with the broadcaster by leaving comments or hearts to show their approval or appreciation for the live stream. Following its surge in popularity, Periscope was purchased by Twitter in January of 2015. The company has reported 10 million registered users as of April 2016.
Because Periscope is an application that allows live streaming from virtually anywhere, lighting conditions during these streams aren't always optimal. This is where Chatlight comes into play; the small, portable device offers studio-quality lighting for users on the go, allowing for better and more enjoyable video quality. This affordable and easy-to-use lighting device is the solution for Periscope users looking to improve their live streams. The Kickstarter-backed device raised nearly $60,000 in less than 60 days.
Chatlight has received such praise from Periscope users that they developed the Chatlight Refersion Program. Designed to help Periscope users spread the word about their favorite lighting device, the program is open to anyone. Those looking to join can do so by visiting the Chatlight website and entering their information. Once approved, users will receive a unique code which they're urged to share with friends, family and followers. Any Chatlight purchased through this code will be tracked, and the user will receive a percentage of sales as commission.
Existing members of the Chatlight Refersion Program include Joy Poulsen, a popular social media and fitness coach. Her frequent Periscope streams have benefited from Chatlight, offering her viewers a much higher-quality image with optimal lighting.
Visit Chatlight.com to place your order and experience the Chatlight difference for yourself!