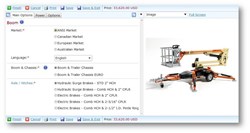 Streamline Selling and Production
Clinton Township, MI (PRWEB) September 09, 2013
Godlan, Inc., an Infor Gold Channel Partner representing the Midwest and Southeast, announced today that they will host a live software demo webinar on Tuesday 9-10-13 at 10 a.m. Eastern Time featuring Product Configurator for Infor SyteLine ERP: "Streamline Selling and Production". The webinar will be guided by expert Ron Clontz.
Click Here for Free Registration!
Infor's Product Configuration Management (PCM) software allows manufacturers to streamline the selling and production of their configured products. With Infor Product Configurator, leading manufacturers can drive revenue, reduce costs, and differentiate their brands in the marketplace. They'll be able to create compelling quotes, accurate orders, and complete bills of materials and routings.
With Infor Product Configurator, manufacturing enterprises get the power and flexibility to handle any configured product or service, and support practically any type of user or application—plus, they can integrate the software with their web, mobile, enterprise, desktop, and laptop systems.
With Infor Product Configurator, companies can:

Capture the knowledge of their product experts in easily maintained product models.
Publish product models from the central repository to people and applications.
Guide users through the selection of product features, options, and dimensions.
Calculate price, cost, and other information, such as performance characteristics or engineering specifications based on the product configuration.
Generate a wide range of configuration-specific outputs, including images, models, and documents.
"SyteLine's Configurator is straight-forward, and, unlike other ERP solutions, it requires only one set of rules to maintain external and internal capabilities, cutting our workload in half. It was the obvious choice." - Mike Russell, IT administrator at Fabco Air
Configurator provides a holistic approach to the design, sales, and production of customized products. The integrated solution ensures configured orders are feasible for the production department by providing clear visibility across inventory and schedules.
Built-in rules and constraints make the selection and configuration of even the most complex products intuitive and error-free. Only valid combinations of features, options, and dimensions are created, quoted, and ordered.
Leading manufacturing organizations can:
Accelerate key processes such as quoting, order entry, and price book/catalog generation.
Increase sales by making every sales person, customer service rep, dealer, and distributor a product expert.
Decrease costs by reducing the need for engineering support in sales and other processes.
Eliminate errors in product specification and pricing.
Gain the ability to quickly train new employees and sales partners.
Speed new product introduction by reducing or eliminating the need to distribute product and pricing updates.
Streamline production and improve quality by providing accurate configuration-specific information to manufacturing.
Godlan was awarded North America SyteLine ERP Partner of the Year in 2011 and is an approved Infor Gold Channel Partner serving customers for 28 years. For more information, visit godlan.com or call 586-464-4400.
---
About Godlan
Godlan is a leading manufacturing performance specialist that has been implementing integrated technology solutions since 1984. As an approved Infor Gold Channel Partner with a focus on Infor SyteLine ERP, Godlan supports the implementation of world-class processes and best practices throughout discrete manufacturing organizations. For more information about Godlan, its mobile application InSync Anywhere, or Infor SyteLine ERP manufacturing software demos, call 586-464-4400 or visit godlan.com.
About SyteLine ERP 10x
Infor SyteLine ERP provides the foundation to improve business efficiency, customer service, and overall manufacturing productivity for a broad range of industries, including metal fabrication, industrial equipment and machinery, high-tech and electronics, and more. Manufacturers can now unlock the potential of their people and capabilities and get software that works the way they think with the latest release of Infor SyteLine ERP 10x. Manufacturers will be able to expand capabilities, get a new look and feel, take advantage of additional industry-specific capabilities, and increase visibility into their business at all levels.