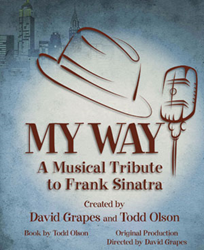 We are very excited about our 2016-2017 season and the response from the community indicates that audiences are too
Willoughby, Ohio (PRWEB) August 29, 2016
The Fine Arts Association's 2016-2017 Theatre Season will excite and amuse audiences of all ages. According to Wanda Wareham, Director of Communications and Marketing, "We are very excited about our 2016-2017 season and the response from the community indicates that audiences are too."
The season opens with "My Way: A Musical Tribute to Frank Sinatra" on September 30 through October 16. This nostalgic revue features the intoxicating music of "the chairman of the board."
Children and their families are invited to "Be Our Guest" for a classic tale of inner beauty and love. The Disney classic "Beauty and the Beast" as presented by The Fine Arts Association will delight families throughout the holiday season beginning on November 25. Performances run on weekends through December 18.
Then Fine Arts fills the holidays with music by featuring the Brass Band of the Western Reserve performing a wonderful array of favorite holiday classics on December 10 and The Coastliners of the North Coast Men's Chorus delivering the perfect holiday blend of lush harmonies and campy comedy numbers on December 17.
Continuing the tradition of presenting a unique collection of comedic, dramatic and brilliant work the 21st Annual One-Act Festival "Ten Below" again features original one acts, from February 10-18. Different every year - this festival is NOT to be missed!
Families will adore "Once Upon a Mattress" from March 24 to April 9. This delightful musical adaptation of the Hans Christian Andersen fairytale ''The Princess and the Pea" enchants children and adults alike.
The 2016-2017 theatre season concludes with the Tony Award-winning "Kiss Me, Kate" in June. The hilarious musical retelling of William Shakespeare's "The Taming of the Shrew" will have audiences laughing long after the theatre is dark.
For complete information and to order tickets for the 2016-2017 Theatre Season, visit fineartsassociation.org or call Fine Arts at 440-951-7500.
The Fine Arts Association is located at 38660 Mentor Avenue in Willoughby. Fine Arts is barrier free. Secure on-site parking is free. Sign interpreted performances are available on specific dates.
The 2016-2017 Modern Classic Series is sponsored by Cornerstone IT and supported in part by a grant from The Lake County Visitors Bureau Arts and Culture Fund. The Fund's purpose is to further participation in, and awareness of, arts and culture in Lake County. Funding is also received from the Ohio Arts Council.
Additional 2016-2017 production sponsors include Andrews Osborne Academy, Breckenridge Village, Carnegie Investment Counsel, Dental Specialists of Lake County, Dr. Bradley Kmentt, D.D.S, M.S.D., Lake National Bank, Vintage Development Group and The Women's Committee of The Fine Arts Association