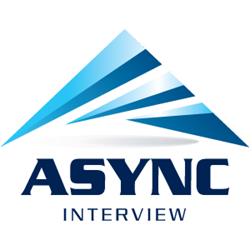 Async Interview is well aware of the challenges that HR professionals face, and we continue to develop new solutions that will not only save companies time and money
Philadelphia, PA (PRWEB) January 28, 2015
Async Interview, a leading digital interviewing platform provider, today unveiled two new features to its array of digital interviewing solutions—Live Scheduling and Live Recording—in a continued effort to simplify the hiring process for human resource (HR) and recruitment professionals. Async Interview's digital interviewing platforms, which include live video interviewing, pre-recorded video interviewing, and audio interviewing, streamline the recruitment and hiring process for both HR teams and candidates, and with the addition of these two new features, companies will be able to better speed their time to hire.
Live video interviewing has streamlined the recruitment process by allowing companies to digitally screen candidates in real time. While this solution simplifies the interview process, scheduling interview slots that work for both hiring teams and candidates can still pose a challenge. With the release of Async Interview's Live Scheduling solution, recruiters can now easily schedule one-on-one and panel interviews. Hiring managers can now work with decision makers to identify available interview time slots, enter those in to the Async Interview system, and invite candidates to sign up for the times that work best with their schedules. Once candidates select a time slot, the interview is automatically scheduled, and invitations are sent out to both the candidate and the recruiting team. This solution eliminates the time consuming back-and-forth of interview scheduling, and offers scheduling flexibility to candidates.
Yet, in the hectic world of recruitments, it's not always possible for all necessary decision makers to sit in on live video interviews. With Async Interview's Live Recording feature, recruiters can record critical content of all live video interviews, and share it with the rest of the hiring team after the fact. This allows decision makers to remain engaged in the hiring process—even if they missed the initial review—and streamline time to hire.
"While digital interviewing technologies have significantly streamlined the interview process for candidates and recruiters alike, hiring managers are often faced with internal barriers that can delay hiring," said Chris Young, CEO of Async Interview. "Async Interview is well aware of the challenges that HR professionals face, and we continue to develop new solutions that will not only save companies time and money, but enhance the hiring process as a whole. With the introduction of Live Scheduling and Live Recording, we provide recruiters with the tools necessary to tackle the recruitment and hiring process from start to finish."
To see the power of Async Interview's digital interviewing platforms, go to its website for a free demo.
About Async Interview
Async Interview is a digital interviewing platform provider that supplies the technology and service to meet the needs of corporate and outsourced recruitment professionals. Its suite of video and audio interviewing tools are built to revolutionize the recruiting process, which is bogged down in inefficiencies, rising costs, and laborious procedures. The cloud-based real-time system gives recruiters, human resource professionals, and hiring managers the ability to conduct live and pre-recorded interviews, evaluate talent, collaborate on the review process, and identify top candidates in the emerging workforce. For more information, visit Async Interview.