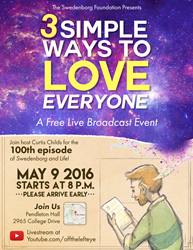 The offTheLeftEye YouTube channel explores faith and spirituality through video and has over 30,000 subscribers, generating an average of 325,000 views and 2.5 million minutes watched each month
Bryn Athyn, PA (PRWEB) April 26, 2016
The 100th Swedenborg and Life episode titled 3 Simple Ways to Love Everyone will stream live to a worldwide YouTube audience while an in-person audience participates for the first time since the show's inception in 2014. The episode will be filmed at Pendleton Hall on the campus of Bryn Athyn College, which is just north of Philadelphia in Bryn Athyn, PA. The event is open to the public and there's no cost to attend.
Encapsulating one of the major themes of the series, the 100th episode will focus on ways to think and act with compassion, offering practical techniques and exercises for a love-centered approach to everyday interpersonal interactions. A question-and-answer session during the show will give audience members a chance to interact in real time with beloved producer and host Curtis Childs.
The videos created by Curtis and his team on the offTheLeftEye YouTube channel have been showing viewers of various faiths how spirituality can unite—even in a tense social climate where political, religious, and economic turmoil persists.
Event Details
Date: Monday, May 9, 2016
Time: 8:00 p.m. ET
Attend in person: Pendleton Hall, 2965 College Drive, Bryn Athyn, PA 19009
Attend online: http://www.youtube.com/offTheLeftEye
No registration required.
About offTheLeftEye and the Swedenborg Foundation
The offTheLeftEye YouTube channel explores faith and spirituality through video. Thanks to a dedicated production and writing team, the channel has been providing hope and meaning to a worldwide audience from a small production studio in Montgomery County, PA, since 2010. Creator, producer, and host Curtis Childs became part of the Swedenborg Foundation in 2012 because of their mutual goal to share the work of eighteenth-century spiritual teacher, philosopher, and writer Emanuel Swedenborg with the world. Swedenborg and Life, which streams live every Monday at 8:00 p.m. ET, launched in 2014. The addition of the hour-long weekly web series added depth to the channel's preexisting short video repertoire as well as viewing consistency for its 30,000+ subscribers. The Swedenborg Foundation is a 501(c)(3) nonprofit, independent, educational organization and book publisher based in West Chester, PA.