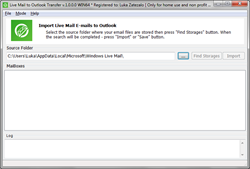 Makes the migration of thousands of emails from Live Mail to Outlook a matter of a few minutes and mouse clicks.
San Diego, CA (PRWEB) October 14, 2013
GlexSoft, the developer of a growing line of intelligent and intuitive data conversion and migration tools for many popular mainstream applications, announces the release of a new product aimed at helping users of all skill levels convert their email archives from Live Mail to Outlook. The program called Live Mail to Outlook Converter uses a convenient multi-step wizard and offers nearly complete process automation, which makes it an obvious choice for fast, unassisted email migrations at home and at work.
Live Mail to Outlook Converter features a best-in-class conversion engine, a lightweight wizard-based user interface, and makes the migration of thousands of emails from Live Mail to Outlook a matter of a few minutes and mouse clicks. The program supports all major versions of Live Mail, Outlook and the Windows OS, which makes it a universal tool suitable for the majority of PC users. Live Mail to Outlook requires no prior training, special knowledge or skills, third-party components or libraries, or anything else the user might need to download and install.
The email migration process is largely automated, prompting the user for input just a few times during the migration process. Emails can be converted to a user-defined Outlook profile or saved to a standalone PST file on the hard drive for archiving or copying to another system. An integrated preview module facilitates the selection of files to be converted to Outlook and makes partial conversions possible.
"Live Mail to Outlook has always been a popular conversion direction, since a lot of users grow out of the basic capabilities of Live Mail very quickly, and Outlook becomes their obvious choice, either at home or at work," explained Atie Uhan, Senior Product Manager at GlexSoft. "The product was created with a focus on ease of use and overall intuitiveness, so I hope that the feedback will be very positive."
The demo version of the program limits the number of messages converted from LiveMail to Outlook but it allows to check the program abilities. Registered program works without such limits and allows to migrate from Windows Live Mail to Outlook in an instance.