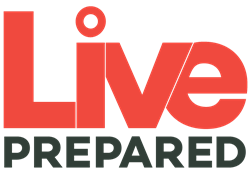 "By joining the National Strategy for Youth Preparedness Education and contributing to FEMA's STEP initiative, we are doing our part to fulfill the vision of a prepared youth community."
Salt Lake City, Utah (PRWEB) July 27, 2016
Live Prepared, the trusted guide for emergency preparedness, has partnered with the Federal Emergency Management Agency (FEMA), the Red Cross and the Department of Education to promote youth preparedness and build a more resilient nation. By joining the National Strategy for Youth Preparedness Education (National Strategy) as a National Strategy Affirmer, Live Prepared is extending its commitment to educating families and communities across the country about the importance of being prepared for unforeseen emergencies.
Emergencies and disasters can happen at any time, and often without any warning. Considering that children comprise approximately 25 percent of our population, it is critical that disaster planning efforts account for their unique needs, and empower them to act as messengers of important information. With this in mind, FEMA, the Red Cross and the U.S. Department of Education together created the National Strategy for Youth Preparedness Education: Empowering, Educating and Building Resilience, which provides nine priority steps that partners at the local, state and national levels can take to create a nation of prepared youth.
As part of its commitment to building more resilient communities, Live Prepared also directs proceeds from every product sold to provide Live Prepared emergency starter kits directly to elementary schools, and through FEMA's Student Tools for Emergency Planning (STEP) program.
"Families can best cope with disasters when they have a plan in place and all work together, and that means ensuring parents and kids alike feel properly prepared to handle the unexpected," said Mark Augason, president of Live Prepared. "By joining the National Strategy for Youth Preparedness Education and contributing to FEMA's STEP initiative, we are doing our part to fulfill the vision of a prepared youth community."
While many of Live Prepared's activities already support youth preparedness, this new partnership aligns the organization with a growing network of public and private sector organizations that are likewise dedicated to building a more resilient nation. Live Prepared's initiatives will focus on elevating the importance of youth preparedness, educating youth on the specific actions to take before, during and after a disaster, and encouraging youth to spread the message of preparedness to their communities.
Live Prepared will continue to support specific youth preparedness initiatives as they are rolled out nationwide. Tools and resources to help families in all aspects of emergency preparedness are available on Live Prepared's online Resource Center.
About Live Prepared
The Live Prepared collection of emergency kits are designed with families in mind, ensuring dependability, portability and ease of use. The experts at Live Prepared developed the collection of vital food and gear to fill a market need for short-term, family-friendly solutions. Live Prepared meal options by Augason Farms feature great taste and sustainable nutrition, and are specially formulated to last up to 20 years. Gear solutions from Live Prepared are sourced from the highest-quality providers on the market to ensure needed functionality. For more information and access to emergency preparedness tools and resources, including educational videos, articles and emergency how-tos, visit http://www.liveprepared.com.
###