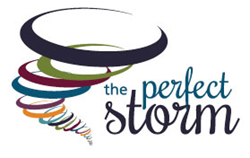 Our practice is filled with children and adults that came looking for solutions to their problems and instead found the cause and now they are experiencing life changing results."
Downingtown, PA (PRWEB) October 28, 2016
Live Pure Chiropractic has recognized the need to address what it calls the "Perfect Storm" facing children of today, with trauma, toxins and thoughts or the "3 T's" creating an epidemic in the lives of children and families.
The Perfect Storm includes conditions of Autism, ADHD, Sensory Challenges, allergies and asthma and these are just a handful of the problems caused by the "3 T's".The Downingtown-based chiropractic practice has turned to a diagnostic solution in the form of Insight Technology to help children and families..
While no 'one thing' causes such problems in children, a set of "common ingredients" build up before manifesting in the form of a host of disorders.
Owner of Live Pure Chiropractic, Dr. Tony Miller, is committed to helping families identify the root cause of such conditions, working to target a real solution through a revolutionary diagnostic process.
Often associated purely with non-medical management of neck or back problems, chiropractic actually focuses on reorganizing a patient's nervous system. As the spinal nervous system is the 'information freeway' for the whole body, a number of problems can be identified here that affect all areas of body and mind.
The INSiGHT TECHNOLOGY
This groundbreaking technology has been designed for use by Doctors of chiropractic to identify areas where nerve function is interfered with. In most cases, this interference is painless and can go unnoticed. The Insight Technology uses non-invasive sensors to capture tiny nerve signals, and is recognized as the perfect chiropractic screening tool for early detection of nerve and spinal system changes.
The technology uses up to five separate sensors, each measuring a different function, providing a report known as the COREscore. The sensors are:
NeuroCORE: Surface Electromyography (EMG) – EMG sensors measure the electrical nerve signals in muscles as they contract. Colors and scores show how energized or exhausted the entire spinal muscle and nerve system are when performing the simplest of tasks – sitting. A pattern graph shows the exact distribution of the nerve and muscle energy along both sides of the spine.
NeuroTHERMAL – Measures the nerve regulation of organs and glands.
NeuroPULSE: Pulse Wave Profiling using Heart Rate Visibility (HRV) – Measures a person's autonomic nervous systems overall adaptability and ability to handle physical, chemical and emotional stress. The autonomic nervous system must be functioning in balance for a person to handle stress or recover from an injury or illness.
While many conditions in children are 'managed', Live Pure Chiropractic aims to find out why the conditions are occurring.
"What makes our practice different is we are finding the cause of people's health problems, not covering up their symptoms. People are coming to us looking for solutions to their problems, and not only are we finding the cause to their problems but we are giving them a vehicle to enhance their health for the rest of their life. We have a practice that is filled with children and adults that came looking for solutions to their problems and instead found the cause and now they are experiencing life changing results."
Dr. Tony Miller is dedicated to improving the lives of children and their families, and anyone wanting to find out more about Live Pure Chiropractic should log on to http://www.livepurechiro.com or call (610) 269-3743.