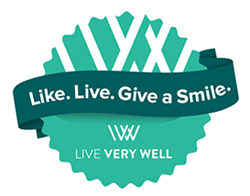 Minneapolis, MN (PRWEB) August 18, 2014
On top of launching LiveVeryWell.com, a new private insurance exchange, Live Very Well is excited to debut a social media campaign with a meaning. Live Very Well promotes healthy smiles by offering a simple platform to attain dental insurance – so, it only seemed fitting to introduce a new social media campaign where they can help kids in need gain healthy smiles as well.
The Like. Live. Give a Smile. Facebook promotion is starting today. For every "like" the new Live Very Well Facebook page receives, Live Very Well will donate $1 (up to $2,500) to Smile Network International, to help impoverished children and adults receive life-altering cleft lip and palate surgeries.
Since its establishment in 2003, Smile Network International has traveled the world, giving new smiles to thousands of people. In the span of 45 minutes and for just $500, Smile Network provides a free surgery to a child in need.
Live Very Well is pleased to partner with another organization that shares the passion of giving healthy smiles. Live Very Well is about more than just insurance – they're all about helping you live your best life. And by a simple click to "like" their Facebook page, you can help give a smile to a child in need today!
The promotion will run August 15 – September 26, 2014. For more information and to see campaign details, visit Facebook.com/LiveVeryWell.
ABOUT LIVE VERY WELL
LiveVeryWell.com is a private insurance exchange that offers a selection of dental insurance plans from leading insurance companies. With products available for sale in all 50 states, plans are available to quote, compare and purchase online. Thanks to the innovative website, online tools, education resources and knowledgeable licensed insurance agents, individuals and families will discover that purchasing insurance can be simple and affordable.
Source: Smile Network International, http://www.smilenetwork.org/