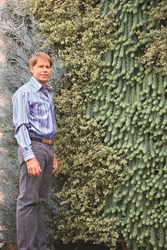 What intrigues [people] are the green wall's natural beauty, noise and stress reduction, and the environmental benefits that come from plants and soil.
Grand Rapids, Michigan (PRWEB) October 09, 2013
Artists have their favorite mediums, be it paint, textiles, metals, wood, clay and others. Michigan horticulturalist Dave MacKenzie's unconventional chosen medium is living plants.
Dave MacKenzie has a vision of a "gray to green" Eden-like future, in which buildings, homes, bridges, parking lots and roadways are clothed in greenery, where plants play a vital role in the ecological health of the planet. That philosophy served as inspiration for his ambitious 2013 installation, "Back to Eden," which has been placed in the Top 25 by public vote in ArtPrize, the competition with the world's largest art prize.
The project, located at the B.O.B., a popular ArtPrize venue in downtown Grand Rapids, is a 1,400 square foot living abstract "painting." It is a multi-dimensional visual expression of horticulture comprising 60 varieties of 2,500 perennial, annual and edible plants. Highlights include hot pink New Guinea impatiens, red double-begonias, pineapple coleus and even ripe strawberries and green peppers. Various colors and textures are tied together with a tendril of purple vining through the 11'X 130' canvas. Breathtaking by day, the living work of art becomes wholly new at night when transformed by special lighting.
"Using plants as a medium for an actual work of art is very unusual," said Dave MacKenzie, president of Hortech, the Spring Lake-based nursery and plant wholesaler that designs and manufactures LiveWall and LiveRoof, which are organic plant-based architectural systems. "Landscaping is, of course, an art form in and of itself, and there are competitions that address that," MacKenzie said. "But using plants on a vertical canvas as an actual medium and in such a major work as "Back to Eden," entered in the world's largest art competition, well that is rare indeed and could be a first."
"It's intended to be a colorful, beautiful, thought-provoking tribute to living-architecture visionaries like Will McDonough, John Todd and Malcolm Wells," MacKenzie said. "Back to Eden, is perfectly aligned with my "gray to green" philosophy, actually rendering the restaurant refuse dumpsters behind it invisible from sight and smell. My objective with this work is to provide a glimpse of what such a "gray to green" future might be."
With MacKenzie as chief designer, he estimates it took four weeks to create, complete and install, with the first plant growing starting in April and May. However, while most works of art are complete upon installation, because "Back to Eden" is truly alive, its canvas needed daily refining to keep it pristine during this fall's competition, including removing spent flowers from the annuals, and keeping a keen eye out for frost that could injure some of the more frost-sensitive foliage. A specially designed protective cloth was kept close at hand in case of cold weather and team members take turns maintaining the work's beauty.
On September 24, Back to Eden was voted by the public in the Top 25 of over 1500 entries and maintained this high ranking until the competition ended on October 6.
According to MacKenzie, the living wall plants perform important ecological functions by purifying air and water, cooling and insulating, feeding birds and butterflies and people. In urban areas, these systems create green space where land is mostly unavailable and very expensive, which is why living wall construction is on the rise throughout North America.
"It's the perfect answer for those people who crave a connection to nature, yet love living and working downtown and don't want to spend 15 hours a week commuting in a car. One look and people are intrigued," MacKenzie reports. "What intrigues them are the green wall's natural beauty, noise and stress reduction, and the environmental benefits that come from plants and soil."
Mackenzie's work is familiar to the City of Grand Rapids, where some of his projects include the living walls at that city's new Downtown Market and at its John Ball Park Zoo, where a recently installed green wall accompanies two of his other green wall designs.
About Dave MacKenzie
Detroit native MacKenzie grew up in West Michigan and for 30 years has been a business owner, horticulturist, writer and product developer of plants, green roof, and green wall systems. MacKenzie founded and is president of Hortech, Inc. (GrownEarthFriendly.com) and its subsidiaries LiveRoof, LLC (LiveRoof.com) and LiveWall, LLC (LiveWall.com). At the request of usually family friends, he said he's sometimes been talked into landscape design, which re-engaged him with drawing which he enjoys. He found landscape design intriguing, seeing the design come to life. The same is true with planted roofs and walls, which he said he discovered people found an even stronger emotional connection to and fascination with. "It is this emotional connection, even more than the plantings themselves, that I find most interesting about planting rooftops and walls."
About ArtPrize
ArtPrize (ArtPrize.org) is a radically open, independently organized annual international art competition with an unprecedented $200,000 top prize decided entirely by public vote. Time Magazine named ArtPrize one of "Five Festival Events You Won't Want to Miss in 2013." For 19 days, three square miles of downtown Grand Rapids, Michigan, become an open playing field where anyone can find a voice in the conversation about what is art and why it matters. Art from around the world pops up in every inch of downtown, and it's all free and open to the public.
Every year, ArtPrize distributes $560,000 in total cash prizes—$360,000 awarded by public vote and $200,000 awarded by jury—making the competition the world's largest art prize.