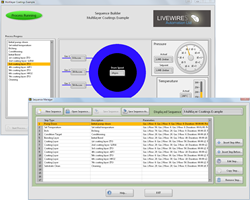 Writing a sequence editor can be a significant task, and this toolkit streamlines and simplifies the process
(PRWEB UK) 12 March 2015
LiveWires Automation, specialists in automation consultancy and LabVIEW development, have announced the release of their latest toolkit through National Instruments' LabVIEW Tools Network. The Sequence Builder toolkit is designed for integration into both new and existing LabVIEW applications, and enables the easy creation and editing of process and test sequences.
Sequence Builder is designed to streamline and simplify the process of creating configurable sequences of steps for multi-step process and test applications. The user simply needs to specify the parameters of the sequence steps, and the toolkit will build a fully-featured sequence editor which can be embedded in the application or run separately. There is no limit to the number of sequences that can be created, and they can be stored in binary or tab delimited format. Users will also be able to modify the sequence editor screen to match the style of their application. The toolkit uses easy-to-follow data flow, with no object-oriented techniques. Sequence Builder by LiveWires Automation is available from the LabVIEW Tools Network at http://sine.ni.com/nips/cds/view/p/lang/en/nid/213124.
A spokesperson for LiveWires Automation said: "We believe that users will find our Sequence Builder toolkit very valuable. Writing a sequence editor can be a significant task, and this toolkit streamlines and simplifies the process, drastically reducing the time needed to complete this stage from weeks to just hours. Unlike other sequence editors, it provides a great level of flexibility, and in some cases it can even allow the use of a single program on several similar but not identical systems."
LabVIEW is a software development environment developed, licensed and trademarked by National Instruments.
LiveWires Automation is one of the UK's leading automation consultancy companies and an Alliance Partner of National Instruments. Led by director Tim Fellows, one of the world's most experienced LabVIEW developers, they have completed process control, datalogging and test projects across a wide range of fields from high-tech manufacturing to academic research.
For more information on LiveWires Automation, their products or services, please visit their website at http://www.livewires-automation.co.uk.