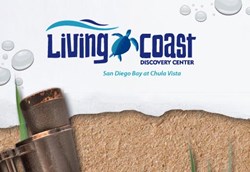 Organized school field trips, seasonal day camps, programs for scientific career exploration, teen volunteerism, student internships, and teacher training and resource development are key components of the center's environmental education mission.
Chula Vista, Calif. (PRWEB) October 30, 2013
The Living Coast Discovery Center, a nonprofit zoo and aquarium in Chula Vista, announced that it has successfully filled the $200,000 funding gap that threatened its closure. As a result of an outpouring of community support, the center has received a total of $401,064 in donations, nearly twice its goal, from private donors, foundations and local businesses over the last several weeks.
On Oct. 1, the Living Coast announced publicly that it was facing a $200,000 funding deficit and that it would be forced to close its doors to the public on Oct. 28 in preparation for a complete, permanent closure on December. With the funds that have now been raised, the center has canceled its phased closing plan, effective immediately. There will be no disruption in access to the center, which will continue to be open to the public seven days a week, 363 days a year.
What's Next for the Living Coast Discovery Center
Over the past year, the Living Coast has been working with a task force formed by the Port of San Diego and the city of Chula Vista to develop a strategic plan to move the center towards a sustainable future. With the center's current budget deficit now closed, the comprehensive plan can be executed to secure the center's long-term, sustainable future on San Diego Bay.
The plan focuses on three primary initiatives:

The Living Coast Experience – a unique and intimate destination for families to enjoy nature and native wildlife
Center for STEAM Education – expanded programs for students to learn about Science, Technology, Engineering, Art, and Math (STEAM) through understanding of the natural environment
Collaborative Research – working with the Port of San Diego, the U.S. Fish and Wildlife Service and other scientific organizations that provide better understanding and restoration of adjacent natural areas that share common birds, habitats, fisheries and other research interests
About the Living Coast Discovery Center
The Chula Vista Nature Center opened on the Sweetwater Marsh National Wildlife Refuge in 1987. The zoo and aquarium was operated by the city of Chula Vista until late 2009, when it transitioned to a 501(c)3 nonprofit organization. In April 2012, it was re-branded as the Living Coast Discovery Center in preparation for the center's 25th anniversary. Uniquely situated within a national wildlife refuge within minutes of downtown San Diego, the Living Coast Discovery offers hands-on exhibits and up-close encounters with more than 350 plant and animal species native to Southern California coastal habitats, including endangered sea turtles, sting rays, leopard sharks, jellies, shorebirds, reptiles and a large collection of raptors such as hawks, falcons, owls, American bald eagle, golden eagle, and more. More information about the Living Coast Discovery Center is available at http://www.thelivingcoast.org.