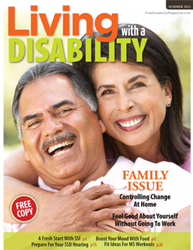 San Antonio, TX (PRWEB) October 31, 2014
To mark Breast Cancer Awareness Month which occurs every October, the Editorial Board of Living with a Disability magazine has published an important new article on breast cancer and Social Security Disability (SSD) benefits.
"Once the initial shock of a breast cancer diagnosis wears off, questions such as 'Can I continue to work?' and 'What will I do about money and income?' begin to emerge, and if left unanswered can add even more stress and confusion to what is already an extremely difficult time," commented Living with a Disability magazine's associate publisher Joshua C. Eyestone. "We hope that our new article helps our readers separate myths from facts, so they can move forward and get the best possible care and treatment -- with the least possible stress and anxiety."
As outlined in the new Living with a Disability magazine article entitled "Breast Cancer and Social Security Benefits," the SSA:

classifies breast cancer as a malignant neoplastic disease;
considers breast cancer to be disabling when medical documentation verifies that the applicant has either: locally advanced carcinoma, carcinoma with distant metastases, or a recurrent carcinoma (except a local recurrence that remits with antineoplastic therapy);
requires medical documentation that clearly identifies the type, extent and site of the primary, recurrent, or metastatic tumor (a tumor that has spread from the primary site to another site in the body), and the type of treatment required for particular cancer (e.g. surgery, radiation therapy, chemotherapy, continuing medication like Tamoxifen and Raloxifene, etc.);
requires (when applicable) copies of the operative and pathology reports when an applicant has undergone an operation, including a biopsy or a needle aspiration;
will generally want to see at least three months of treatment records to determine if the treatment is having the intended effect, and if the benefits of treatment are expected to continue;
may take into consideration the fact that some types of treatment cause lasting side effects that impair physical or mental function, and therefore impede the ability to work.
"Applicants diagnosed with breast cancer should get help from an experienced SSD lawyer with their disability claim, so that it's complete, accurate and provides the SSA with the information they require as soon as possible," added Mr. Eyestone. "It could make a big difference in whether and how quickly their claim is approved, so they can focus on what really matters: winning their battle against breast cancer!"
The full text of Living with a Disability Magazine's new article is available at http://howtogetsocialsecuritydisability.com/2014/breast-cancer-social-security-disability.
Readers who visit Living with a Disability Magazine's website will also find a wide range of other helpful articles related to cancer and several other health conditions. All content is available at no cost, and no membership or subscription is required.
For additional information, media interview requests and advertiser inquiries, contact Editor(at)FreeDisabilityMagazine(dot)com.
About Living with a Disability
Living with a Disability is full-color print and online magazine that help individuals with various disabling medical conditions live life to the fullest. The print version is available on publication racks in doctor's offices, health clinics, hospitals, pharmacies, community service agencies, grocery stores, convenience stores and other locations. Those who are unable to pick up a copy of Living with a Disability are invited to email Editor(at)FreeDisabilityMagazine(dot)com to sign up for a no-cost subscription, which will be sent directly to their home. They can also visit http://www.FreeDisabilityMagazine.com to access hundreds of helpful articles.