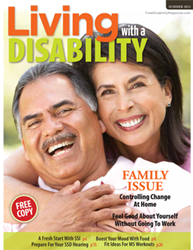 Individuals who believe they may be afflicted with CFS should consult their doctor and discuss all of their symptoms.
San Antonio, TX (PRWEB) March 31, 2014
The Editorial Board of Living with a Disability, a full-color print and online magazine that help individuals with various disabling medical conditions live life to the fullest, has published a must-read new article to mark Chronic Fatigue Awareness (CFS) month, which takes place every March.
The article entitled "Chronic Fatigue Awareness" provides essential information on this widespread, yet generally misunderstood debilitating medical condition that affects millions of people each year, and prevents them from performing a variety of everyday tasks. Of particular importance, the article highlights that the symptoms of CFS can be as misleading and misunderstood as the condition itself:
"People who suffer from CFS feel an extreme tiredness," the article states, "but there are other symptoms that can accompany this condition, and not everyone shares the same symptoms. Some people may suffer from terrible headaches or joint pain. Others may feel faint or feverish, even though they both share a CFS diagnosis. Once a person has experienced extreme drowsiness for six months or more along with other symptoms they may be diagnosed with CFS."
"Individuals who believe they may be afflicted with CFS should consult their doctor and discuss all of their symptoms," commented Living with a Disability's associate publisher Joshua C. Eyestone. "However, they should be aware that not all doctors share the same views or take the same approach to diagnosing CFS. As such, individuals should consider a second medical opinion."
The full text of Living with a Disability Magazine's article marking Chronic Fatigue Awareness Month is available at: http://howtogetsocialsecuritydisability.com/2014/chronic-fatigue-awareness/
Readers who visit the Living with a Disability website will also find a wide range of other helpful articles on the SSD program and its administration, health & wellness, and numerous health conditions like digestive diseases and fibromyalgia, and much more. All content is available at no cost, and no membership or subscription is required.
For additional information, media interview requests and advertiser inquiries, contact Editor(at)FreeDisabilityMagazine(dot)com.
About Living with a Disability
Living with a Disability is available on publication racks in doctor's offices, health clinics, hospitals, pharmacies, community service agencies, grocery stores, convenience stores and other locations. Those who are unable to pick up a copy of Living with a Disability are invited to email Editor(at)FreeDisabilityMagazine(dot)com to sign up for a no-cost subscription, which will be sent directly to their home. They can also visit http://www.FreeDisabilityMagazine.com to access hundreds of helpful articles.