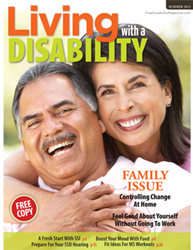 The SSA's definition of a disabling condition is not the one held by most average Americans.
San Antonio, TX (PRWEB) September 30, 2014
To mark National Sickle Cell Month which occurs every September, the Editorial Board of Living with a Disability magazine has published an important new article that sheds light on hematological disorders as disabling conditions.
As the new article highlights, the SSA requires more than a diagnosis to establish a disability related to a hematological disorder, such as sickle cell, chronic thrombocytomenia, myelofibrosis, hereditary telangiectasia, coagulation defects, polycythemia vera, and aplastic anemias with bone marrow or stem cell transplantation. The SSA also requires evidence that the disorder meets a minimum threshold, which could be defined as an extended hospital stay, frequent painful crisis, and in the case of Aplastic anemia, the need for a bone marrow or stem cell transplant.
"According to the Centers for Disease Control and Prevention, at least three million Americans have sickle cell trait, which means they carry the sickle cell gene mutation referred to as Hb AS," commented Living with a Disability magazine's associate publisher Joshua C. Eyestone. "And millions of other Americans suffer from other painful and disabling hematological disorders. However, the SSA's definition of a disabling condition is not the one held by most average Americans. As such, it's essential for anyone seeking SSD benefits for a hematological disorder to work with an experienced SSD attorney, who will make sure they have the documentation in place to not just verify that their disabling condition exists, but that they meet the SSA's threshold, and as such will qualify for the disability benefits that they deserve and are entitled to."
The full text of Living with a Disability Magazine's article entitled "Disabling Condition: Hematological Disorders", which has been published to mark National Sickle Cell Month, is available now at http://howtogetsocialsecuritydisability.com/2014/disabling-condition-hematological-disorders
Readers who visit Living with a Disability Magazine's website will also find a wide range of other helpful articles related to hematological disorders and several other health conditions. All content is available at no cost, and no membership or subscription is required.
For additional information, media interview requests and advertiser inquiries, contact Editor(at)FreeDisabilityMagazine(dot)com.
About Living with a Disability
Living with a Disability is full-color print and online magazine that help individuals with various disabling medical conditions live life to the fullest. The print version is available on publication racks in doctor's offices, health clinics, hospitals, pharmacies, community service agencies, grocery stores, convenience stores and other locations. Those who are unable to pick up a copy of Living with a Disability are invited to email [email protected] to sign up for a no-cost subscription, which will be sent directly to their home. They can also visit http://www.FreeDisabilityMagazine.com to access hundreds of helpful articles.