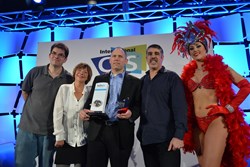 We've got the showgirls and swag but most of all we've got fantastic products that are changing the world from bike riding and car driving, to both buying and finding your glasses.
Las Vegas, NV (PRWEB) January 09, 2014
Last Gadget Standing and Mobile Apps Showdown, produced by Living in Digital Times, were the hottest competitions in town, drawing a packed house, and a ton of laughs and applause at the 2014 International CES®. Joining the ranks of past Last Gadget Standing winners in the 14th year of the competition, Kevo Lock by Kwikset, a smart lock that turns smartphones into keys was the audience fan favorite, and Skulpt Aim, the first-ever device to measure muscle quality and fat percentage of individual muscles, captured the online vote. PasswordBox is an innovative, free password manager which won over the audience as the best mobile app at the live Mobile Apps Showdown event, while Ballerz, an app that makes it easier than even to play a pick-up game with friends, took the prize for the online vote.
Keeping the crowd entertained were event hosts Jon Hein and Gary Dell'Abate, co-hosts of The Wrap Up Show on the Howard Stern channel on SiriusXM Radio, who brought their unmatched wit and knowledge of all things geek to the festivities. Attendees were treated to presentations complete with Las Vegas showgirls, a rapping duo, dancing robots, a live jam session, hilarious skits and fun trivia breaks with prizes.
"We've got the showgirls and swag but most of all we've got fantastic products that are changing the world from bike riding and car driving, to both buying and finding your glasses," said Robin Raskin, founder, Living in Digital Times and event emcee. "And today we awarded our first young app-renuer award thanks to the Kay Family Foundation. Wow!"
Last Gadget Standing 2014 Top Ten Gadgets

Skulpt Aim
Canary
Galaxy Gear from Samsung
Glasses TrakR from Phone Halo
JamStik from Zivix
Kevo Lock from Kwikset
Kurio Phone from Techno Source and KD Interactive
Lenovo N308 Multi-Mode 19" Android All-In-One
MiP Robot from WowWee
Voyce
Mobile Apps Showdown 2014 Top Ten Apps

Ballerz
Cliiiimb
glasses.com
Iris
Maluuba
PasswordBox
Smart Document Scanner
Tinké
True3DAudio
Zubie
So, how does a product make it to last gadget? How does an app become more than just a statistic and go on to win the showdown? Last Gadget Standing looks for devices (not a service or software) that are pioneering the ways in which the digital world will change, while Mobile Apps Showdown honors the best smartphone and tablet apps across all platforms.
Eligible products and apps were submitted in early December of 2013, and from there, two panels of esteemed judges, tech experts ranging from longtime journalists to technology consultants, to editors and product reviewers, had the difficult task of selecting the Top 25 semi-finalists for each competition. Judges chose products based on their "sustainability" to make it to the top of the heap. From there, heated discussions ensued and the lists were narrowed down further to the Top 10 gadgets and Top 10 apps that would face the people's vote online and live at CES. Winners of online voting were determined by popular vote, and in person, an applause-o-meter measured audience enthusiasm to determine the winner.
About Living in Digital Times
Living in Digital Times produces conferences and exhibits throughout the year that bring together the most knowledgeable leaders and the latest innovations that intersect technology and lifestyle. Among their many goals is to help companies understand what it means to be a consumer in today's digital world and stay a step ahead in identifying key trends in their given marketplace. Living in Digital Times produces the following summits, exhibitions and events annually at International CES: Digital Health Summit, Silvers Summit, FitnessTech Summit, TransformingEDU, Kids@Play Summit, MommyTech Summit, Mobile Apps Showdown, Last Gadget Standing, FashionWare Show and the KAPi Awards. For more information, visit http://www.LivinginDigitalTimes.com.
About CES
The International CES is the world's gathering place for all who thrive on the business of consumer technologies. It has served as the proving ground for innovators and breakthrough technologies for more than 40 years—the global stage where next-generation innovations are introduced to the marketplace. As the largest hands-on event of its kind, CES features all aspects of the industry. And because it is owned and produced by the Consumer Electronics Association (CEA), the technology trade association representing the $203 billion U.S. consumer electronics industry, it attracts the world's business leaders and pioneering thinkers to a forum where the industry's most relevant issues are addressed. Follow CES online at http://www.CESweb.org and through social media: CESweb.org/social.
# # #