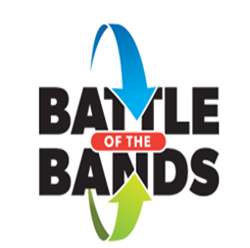 We had diverse entries and they're all winners because they're adding new creativity to this burgeoning market.
New York, NY (PRWEB) June 25, 2014
Straight from CE Week in New York City, Living in Digital Times announces the winner of the Battle of the Bands, the competition where top brands entered their fitness device to sweat it out against competitors. Hosted by Andia Winslow, founder of The Fit Cycle and elite athlete, this high-energy heart-pumping event put fitness devices head to head in front of a live audience that decided which would be crowned the best of the best. With a landslide win, the winner of this year's competition is Healbe GoBe™.
"The Battle of the Bands is a fun, whimsical way to educate people about the power of fitness monitoring," said Julie Sylvester, co-producer, Living in Digital Times. "We had diverse entries and they're all winners because they're adding new creativity to this burgeoning market."
Participants in the Battle of the Bands worked to wow the crowd with shirtless, muscular presenters and comedic demonstrations, but ultimately it was Healbe's GoBe that won over the crowd. This Original 100% Automatic Body Manager is poised to disrupt the wearable tech industry. GoBe provides the health and fitness insights users need to manage their whole-body health. Simply wear it to see calories consumed and burned, pulse wave, hydration, sleep, stress levels, and more, delivered effortlessly to your smartphone.
"Healbe captivated the crowd because people want one device to do everything and it monitors caloric intake, heart rate, caloric output, as well as the usual fitness measures," said Robin Raskin, founder, Living in Digital Times. "Clearly the crowd's vote indicates that no one wants to wear 12 bands at once."
The next Battle of the Bands event will take place at CES 2015 in Las Vegas.
About Living in Digital Times
Founded by veteran technology journalist Robin Raskin, Living in Digital Times brings together the most knowledgeable leaders and the latest innovations impacting both technology and lifestyle. It helps companies identify and act on emerging trends, create compelling company narratives, and do better business through strong network connections. Living in Digital Times produces the following conferences, exhibits and events at International CES and other locations throughout the year: Digital Health Summit, Silvers Summit, Sports & Fitness Tech Summit, TransformingEDU, Kids@Play Summit, MommyTech Summit, Battle of the Bands, Mobile Apps Showdown, Last Gadget Standing, FashionWare, Robotics on the Runway, and the KAPi Awards. For more information, visit LivinginDigitalTimes.com.
About CE Week
CE Week, trade-only event, is the consumer electronics (CE) industry's weeklong, citywide event in New York City. The official mid-year conference and new technology showcase includes the event headquarters, CE Week Line Shows and Exhibits, which is the site of CE Week's largest exhibition hall and conference program. CE Week is organized in association with the Consumer Electronics Association (CEA)®, along with Martin Porter Associates and Consumer Technology Publishing Group/NAPCO, publisher of Dealerscope, Technology Integrator and Tell Magazines.
# # #