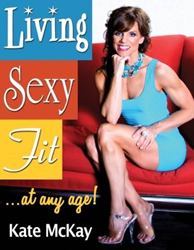 (PRWEB) December 02, 2014
Kate McKay has been hailed as a fitness expert and role model for women everywhere for her attention to fitness at any age. Her Living Sexy series has already launched with the first book, published by Next Century Publishing, Living Sexy Fit. This book tells women and men of all ages how to grasp true fitness and live a fit lifestyle. Now, Kate McKay will be touring the country and hosting a series of book signings in New England, Texas and New Mexico. While in New Mexico, Kate will also film a segment for a soon-to-be announced PBS series.
McKay, will be doing book signings throughout New England as well as at the Barnes & Noble in Amarillo, Texas, on December 3 and the Barnes & Noble in Albuquerque, New Mexico, on December 5. Fans will be able to purchase a copy of Living Sexy Fit, meet Kate McKay and have her sign their personal copy and speak with the author about her fitness motivation strategies.
Renowned for her motivational speaking and positive attitude toward life, Kate McKay's book Living Sexy Fit goes beyond simple fitness routines to tackle the tough questions: What does it mean to live abundantly in every area of life? What is truly sexy? How is true sexy different from the world's perception? With her candor and practical tips for staying healthy physically and financially, Kate McKay has become a recognized expert in the field of positive motivation.
About Kate McKay:
Kate McKay is not only a role model for today's women but also a famous symbol for many on the power of inspiration, positive thinking and motivation. Kate is the author of the Living Sexy series, and she offers hope to those of all ages who want to live sexy, fit and abundant lives.