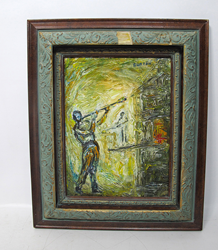 when the oil painting by Richard Burton arrived at our facility, and after inspecting it I knew this was going to be a highly desired piece of art
Eastern Shore, DE (PRWEB) June 23, 2015
Estate Auctions Inc. is pleased to announce a very rare opportunity to own the unpublished and unauthorized book written entirely by Sara Taylor, Elizabeth Taylor's mother, with all of the accompanying ephemera and documents. Estate Auctions Inc. is also offering an original 1963 oil on board painting by the actor, Richard Burton. Titled, "The Glassblower".
The painting was done by Mr. Burton during the filming of The Night of the Iguana in Mexico. The story behind it is fascinating to say the least. All documentation accompanies the painting.
The 496 page copy of an unpublished manuscript titled: Taylor-Made Memories by Elizabeth's Mom, Sara Taylor, copyright 1986 will be accompanied by nearly sixty other ephemera items. Another of the more unique items include Sara Taylor's, signed in pen, Last Will and Testament and Her Trust Agreement.
This rare and unique collection, and the painting, became available through the good friend of Sara Taylor, Steven Pierce. In the late 1970's Mr. Pierce became good friends with Sara Taylor, each becoming close enough to be considered part of each other's family, even sharing holidays together. Mr. Pierce became Sara's partner/escort to social and events focused around Elizabeth Taylor, her daughter. Sara felt so strongly about their relationship that she mentions him in her will, including naming him as her alternate executor to the will. Sara used Mr. Pierce's office and secretary in regards to this manuscript. The documentation included with the manuscript reflects this relationship, including multiple photos of the two of them together.
It was the wish of Sara Taylor that the manuscript not become public until her daughter Elizabeth passed away. And according to Steven Pierce, it would have made Elizabeth happy if this book had never been written or burned. Also according to Mr. Pierce, this is one of only two copies ever known to exist.
"When we were contacted by the owner to provide this amazing collection I was beside myself. And when the oil painting by Richard Burton arrived at our facility, and after inspecting it I knew this was going to be a highly desired piece of art. We have some very unique and extremely rare antiques and Hollywood memorabilia and collectibles come through our doors, but this probably ranks in the top ten. There are only a few times I remember being this excited about an item we're putting up for auction." says Norb Novocin, owner of Estate Auctions, Inc.
To view all the items and learn more, click here. The auctions end Monday, June 29, 2015 at approximately 9:00 PM EST.
The Estate Auction team specializes in handling consignments rare and valuable antiques and collectibles. They continue to satisfy the taste of a loyal customer base and have even published a book about these experiences. Getting Sold On Ebay, The Treasure Hunter's Guide To Making Money, which has received stellar reviews and is receiving national attention.
To learn more about upcoming items for sale or consigning information please Estate Auctions, Inc. on Facebook.com/EstateAuctions or call 1-800-573-3508.