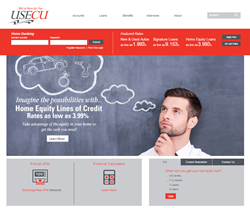 Working with LKCS simplified the process. They were with us every step of the way and continue to provide support and instruction in a timely manner.
Chicago, IL (PRWEB) April 19, 2016
U.S. Employees Credit Union (USECU) has launched a new website with some changes that their members will be excited to experience. The website can be found at https://www.myusecu.org. This new website was created with several goals aimed at better serving members.
One of the goals accomplished with this new launch is the implementation of a mobile responsive design. This means that the USECU website will function optimally due to the website resizing and shifting to fit the screen resolution of any platform members decide to use. Whether members use a computer, tablet or a smartphone, they can easily use the website.
Usability and comprehension have also improved with the new website design. USECU has increased comprehension and navigation by reordering the information presented on their pages based on what is important to their members. The links have also been grouped together and a search bar has been added in order to help members find what they need.
USECU has also implemented the Sitefinity Content Management and system and LKCS' Tool Suite, a set of web tools designed specifically for financial institutions. Between the LKCS Tool Suite and Sitefinity CMS, the credit union has complete control over making changes and updates to their website. With an easier to manage website, USECU can keep members in the know faster and more efficiently than ever before. Not to mention, pairing up with LKCS to create a bold, new website has given them the extra push they needed to really create an impressive website.
"As a Chief Operating Officer, I was terrified at the thought of launching a new website, but it was necessary. Our goal was to create a user-friendly website and significantly improve our look for our members. We also wanted a website that was easy to update and edit," says Nilda Padin. "Working with LKCS employees simplified the process. They were with us every step of the way and continue to provide support and instruction in a timely manner."
About U.S. Employees Credit Union
U.S. Employees Credit Union is a long-standing part of the Chicagoland area with two branches located in the heart of Chicago, IL and one in Hines, IL. Since 1953 they have provided their members help in achieving their financial goals. As a credit union dedicated to helping their members attain financial stability, they offer a comprehensive range of services to meet the ever changing needs of their members.
About LKCS
Based in Peru, Illinois, LKCS is the leader in providing end-to-end marketing, graphic design, commercial printing, direct mail, web development, and statement processing services to financial institutions. Combined with over 50 years of financial marketing expertise, LKCS leverages the latest technologies and techniques to improve marketing results and return on investment for our clients. We do that. Additional information about LKCS can be found at http://www.lk-cs.com.