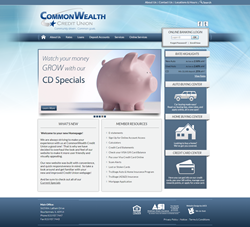 We love our new website. The LKCS staff and everyone involved was very knowledgeable and made the process much easier than we thought it would be.
Peru, IL (PRWEB) November 26, 2014
CommonWealth Credit Union (Bourbonnais, IL; http://www.cwcu.com) started in a small office at the Kankakee General Food Company corn mill as General Foods Employees Credit Union in 1951. Over time, it has grown into the biggest Credit Union in Kankakee County. To better represent their brand and improve member service, the Credit Union engaged LKCS (Peru, IL; http://www.lk-cs.com) to develop and launch a new, responsive website.
To make the site more user-friendly for visitors, LKCS greatly improved the navigation, gave it a friendlier appearance, and added security features to protect financial information.
CommonWealth's previous website was not mobile-friendly. Anticipating the continued popularity of mobile devices, CommonWealth accepted LKCS' recommendation to proceed with a responsive site design. Since the site formatting and content adjust automatically based on the screen resolution used by any site users, the Credit Union ensures that all of their visitors are able to engage with the site to conduct their business, learn about their products and services, and take advantage of special offers and promotions.
In the past, there was also no way for the credit union to edit or manage any of their web site's content without involving a staff member who knew HTML and other web programming. To solve the problem LKCS built the new site with the Sitefinity Content Management System. Multiple CommonWealth employees can now modify page content, add or delete pages, organize site content, track content changes, and improve search engine optimization without any programming experience or technical background.
"We love our new website," commented Kevin Hill, Marketing Director at CommonWealth CU. "The LKCS staff and everyone involved was very knowledgeable and made the process much easier than we thought it would be."
In addition, CommonWealth CU also selected LKCS' custom programmed web site tools suite which allows for nearly effortless banner ad and side-bar ad management, a rates manager that enables employees to update rates spread throughout the site from a centralized location, a forms manager to securely review and manage online form submissions, and a user management interface to adjust permissions settings for different employees and departments. The tool suite also maintains a complete history of form submissions, rate changes, and user settings for compliance review.
"The website looks great and we couldn't be more pleased with the final product," Kevin Hill concluded.
The newly launched CommonWealth Credit Union website can be found at: https://www.cwcu.com. To learn more about LKCS' web development and e-marketing capabilities please visit http://www.lk-cs.com.
About LKCS
Based in Peru, Illinois, LKCS is the leader in providing end-to-end marketing, graphic design, commercial printing, direct mail, web development, and statement processing services to financial institutions. Combined with over 50 years of financial marketing expertise, LKCS leverages the latest technologies and techniques to improve marketing results and return on investment for our clients. We do that. Additional information about LKCS can be found at http://www.lk-cs.com.