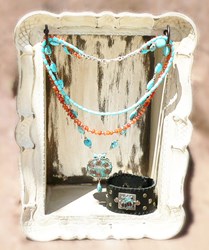 Like every piece of Orgone energy jewelry I create, these pieces are infused with positive energy and blessings from my heart.
(PRWEB) September 17, 2013
LKS Originals (http://www.LKSoriginals.com) will be showcasing on display a multi-strand turquoise, carnelian and sterling silver Orgone Energy necklace and men's leather cuff at GBK's Celebrity Gift Lounge in honor of the nominees & presenters of the 65th Annual Primetime Emmy Awards; recipients of The Artisan Group® swag bags will receive a unisex Orgone Energy necklace. The by-invitation-only Gift Lounge is scheduled to take place September 20-21 at an exclusive location in Hollywood, CA.
Lisa Smith, designer/owner, LKS Originals, describes the multi-strand turquoise necklace as a bold statement piece. "This is an attention-getting necklace that reflects my Boho style and includes my special Orgone Energy Jewelry as a focal element," noted Smith. "The men's cuff on display is similarly bold and includes a sterling silver and turquoise focal on a wide, hand-stitched leather band with numerous rivet accents."
The Orgone energy necklaces that will be included in The Artisan Group® swag feature a double-sided pendant with gemstones and other Orgone components. The pendants hang from a double strand leather cord.
Watch a LKS Originals video.
Of her Orgone energy jewelry, Lisa says, "Like every piece of Orgone energy jewelry I create, these pieces are infused with positive energy and blessings from my heart."
In April 2013, Smith gifted her Orgone energy jewelry to some of Hollywood's most eco-conscious celebrities as part of a collaborative Earth Day gift bag prepared by The Artisan Group®. Smith has also participated at in the official Gift Lounge for the 46th Annual CMA Awards and GBK's Luxury Gift Lounge for the 2012 Primetime Emmy Awards. Nia Peeples, Renee Zellweger, Amy Poehler, Khloe Kardashian, Tyra Banks and Brandi Glanville are other celebrities who have received Orgone energy jewelry from Smith. On January 29, 2013, Nia Peoples (character Pam Fields), wore a Nacozari turquoise necklace and earrings set on Episode 3.17 of the popular ABC Family television show, "Pretty Little Liars."
Smith creates her LKS Originals jewelry out of her home studio near Denver, Colorado, where nature, her stash of gemstones and current fashion trends inspire her. She is also known for her work with polymer clay and enjoys creating mosaics, although these are not for sale. Smith is a member of The Artisan Group®, a by-invitation-only collective of artisans who collaborate to provide handcrafted work at elite Hollywood events.
All LKS Originals jewelry is available online on the company's website (LKSoriginals.com) as well as at select art shows in the western region of the country. To learn more about LKS Originals or its participation in The Artisan Group® celebrity gifting initiatives, visit the website, Facebook (facebook.com/LKSoriginals) or Twitter (@lksweelee).
About LKS Originals
Lisa Smith of Thorton, Colorado is the owner of LKS Originals (http://www.LKSoriginals.com). The company specializes in handcrafted artisan jewelry incorporating natural gemstones, beading, wire-wrapping and resin work. Orgone Energy Jewelry is the company's signature line of pendants, bracelets and earrings. The pieces contain Orgonite, which is a mix of materials believed to offer the wearer positive energy and protection by collecting etheric energy (life energy or chi) and transforming negative energy into positive energy.