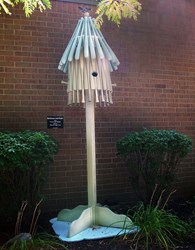 CINCINNATI (PRWEB) August 23, 2013
Llanfair Retirement Community, a continuing care retirement community serving southwest Ohio, celebrates the return of its beloved baseball bat birdhouse, appropriately named, "Bat House and Robin."
"Bat House and Robin" is a treasured landmark on the Llanfair campus and provides shelter for the birds visiting the 14-acre wooded community. The birdhouse was designed by artist Tonya Leigh Morgan and was sponsored by the Helen B. Vogel Trust.
In 2011, Llanfair staffers and residents noticed the weathering of the birdhouse and knew it was time to have it repaired and restored to its original glory. The budget for repairs was limited, though, as Llanfair is a not-for-profit community.
Llanfair employees reached out to John Hillerich, president of Hillerich & Bradsby, in Louisville, Ky., famous for producing Louisville Slugger baseball bats. Llanfair asked for the donation of 30 baseball bats to help get the bat house restoration project underway, and Hillerich & Bradsby were happy to oblige!
Two Llanfair employees eagerly helped repair the birdhouse, using their painting and carpentry talents.
Without the help of Hillerich & Bradsby and Llanfair's employees, "Bat House and Robin" wouldn't have been restored to its original beauty.
About Llanfair Retirement Community:
Llanfair is one of 11 retirement communities owned and operated by OPRS Communities a wholly owned subsidiary of Ohio Presbyterian Retirement Services headquartered in Columbus. Since 1922, OPRS has defined the highest standards of quality of life for older adults. Each year, OPRS serves more than 90,000 people annually through its wholly owned subsidiaries OPRS Communities and Senior Independence.