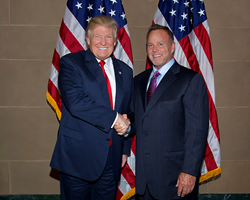 New York, NY (PRWEB) December 12, 2016
Following the appointments to Trump's Transition Finance Committee on December 7th, the President-elect personally met with some of his biggest supporters and financial contributors at the $5,000-a piece event. The fundraiser held to raise money for Trump for America, a group that is helping to fund the president-elect's transition, also served as a "thank you" to those who had been supportive of Trump both before and after his win on Election Day. The money goes to fund his presidential transition effort.
The Republican President-elect has more than a dozen billionaire backers supporting his campaign as well as many local and regional wealthy donors, among whom Lloyd Claycomb - a prominent American philanthropist and businessman who played a leading role in campaigning for President-elect Donald Trump has been appointed to the Transition Finance and Inauguration committee. This followed his appointment to the 2016 State Victory Finance Chairs.
"It was a really interesting thing. I thought it was quite surprising," commented Robert Cresanti, the president and CEO of the International Franchise Association (IFA), who was in the crowd. "I had seen him once before [during the campaign]. I'll just say he was in campaign mode," he continued. At the event, Trump was "very relaxed; he was very magnanimous." The President-elect personally thanked several of the largest contributors to his campaign, including Mr. Lloyd Claycomb, who has been an outspoken Trump supporter since the beginning of the Election campaign. Mr. Claycomb who is the current CEO and Chairman of the Board of United Builders Service and AviBree Real Estate Holding, Inc - showed great dedication to fundraising in the months leading to the 2016 Election. His participation in the Cleveland 2016 Convention, where he met RNC Chairman Reince Priebus and discussed policy changes, the Trump campaign, and funding for the Republican Party resulted in increased exposure for Cleveland as a business hub to be developed. "I commit to doing everything in my power to ensure that you win the state of Arizona," Claycomb promised Trump during another fundraising event prior to the election. Trump personally thanked Claycomb at the Transition Committee breakfast for following through on his promise which aided in Trump's victory in the state.
An estimated 800 to 1,000 people were at the event, with one person saying that the venue had to have been at capacity. Trump spent most of his speaking time giving donors an account of how he felt on Election Day all through the evening, and giving some "backhanded compliments" to some attendees who had been part of the Never Trump crowd during the campaign, according to sources in attendance.
Those spotted in the room included Mitch Bainwol, leader of the Alliance of Automobile Manufacturers; Dirk Van Dongen, the president of the National Association of Wholesaler-Distributors; Dirk Kempthorne, who helms the American Council of Life Insurers; Cindy Chetti, a top lobbyist for the National Multifamily Housing Council; Wayne Berman of Blackstone Group; Brian Smith, who works in the Washington office of Regions Financial; and Lloyd Claycomb, CEO of United Builders Service who is serving on the Trump Campaign Transition Team and 2016 State Victory Finance Chairs committee. For many attendees, this was their first political event of this kind and the level of engagement was beyond expected with Trump receiving multiple ovations throughout.
You can reach Lloyd Claycomb II on twitter @Lloyd_Claycomb or through his personal website.