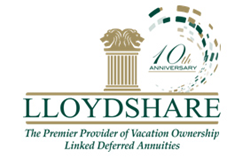 Mexico City, Mexico (PRWEB) July 16, 2014
For 13 years the Lloydshare product has been presented as a Deferred Annuity. Branded as the world´s premier provider of vacation club-linked deferred annuities, Lloydshare has established an impeccable reputation with 52 host resorts in six different countries.
Traditionally referred to as an annuity, Lloydshare has always been positioned as a financial vehicle linked to vacation club membership, which intends to repay the consumer their investment at the end of a fixed term. The business model remains the same, but what is exciting is the way it is now being described within the sales environment.
The word annuity, although a perfectly accurate description, has often been a confusing term to consumers. Lamentably, due to pre-conceived ideas of SPDAs, CDs, life insurance plans, etc., the regular purchaser of a timeshare or vacation club has often had a hard time fully grasping the product´s identity.
In a bold move, Lloydshare´s Business Development Team, headed by Ms. Lindsey Western & Ms. Vicki Reindl, recently unveiled a new approach: Lloydshare Loyalty Repayment Plan.
Lindsey Western commented by stating that, "Loyalty means the state or quality of being faithful to commitments or obligations. We are talking about devotion, constancy, allegiance and fidelity, all of which imply a sense of devoted attachment to something or someone. Loyalty is the sentiment and the feeling that one holds for one's country, creed, family, friends, etc., and in the case of the consumer, it refers to his or her loyalty to the vacation club or timeshare. If they remain loyal to their financial obligations with the club or timeshare, they will be rewarded in the future."
"These types of repayment plans, such as the Lloydshare Loyalty Repayment Plan are common in Europe and North America, and are now becoming more popular throughout the rest of the world," said Ms. Vicki Reindl. "Programs like the Lloydshare Loyalty Repayment Plan are structured marketing efforts that reward, and therefore encourage, loyal buying behavior – behavior that is potentially beneficial to the firm."
In marketing and retail, a consumer can present their loyalty card, and typically be entitled to either a discount on the current purchase, or points that can be used for future purchases. This card is the visible means of implementing what economists call a "two-part tariff."
Loyalty programs can be viewed as a form of centralized virtual currency, one with unidirectional cash flow since reward points can only be exchanged into goods or services.
The Lloydshare Loyalty Repayment Plan provides the consumer not with goods or service, but with a monetary payout. Lloydshare rewards the consumer for remaining faithful to their financial obligations to the vacation club or timeshare.
Salesrooms that are currently using Lloydshare will notice this new look branding not in the company name, nor the logo, but they will see collateral and sales materials reflecting this approach.
"We are confident that this will simplify the description of our product. What matters to us is that the client can identify the product immediately, that the message is clear, and that they are easily able to relate to what we provide," added Vicki.
******
info(at)lloydshare(dot)com
http://www.lloydshare.com/