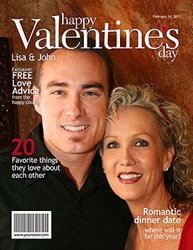 I gave this to my soon to be fiance as a V-Day gift, she absolutely loved it. I framed it and it's now hanging in her house. Very unique...
Wilton, CT (PRWEB) February 12, 2014
Last minute Valentine's Day gifts tend to be the same as those that are planned in advance. Typically they consist of the age-old favorites of candy, flowers, stuffed animals or perhaps some lingerie or a gift card for a massage or manicure. Across the board, most would not consider these gift ideas to be unique, original or personalized.
YourCover offers personalized magazine covers that can be created in minutes online. Each magazine cover is completely unique to the person starring on the front cover and includes a custom photo as well as headlines specifically about their life, interests, friends and family.
Shoppers in need of a last minute Valentine's Day gift can use the magazine cover generator at http://www.YourCover.com to make a unique gift that will appear to the recipient to have taken weeks to create as opposed to just a few minute. To make a magazine cover, the user chooses a magazine cover template such as the Valentine's Day or Love themes. The next step is to upload a photo, lastly, the user personalizes the headlines including the text, color, font style, size and position.
It is the instant delivery option of YourCover's personalized magazine covers that make it the perfect last minute Valentine's Day gift. The shopper chooses the photo file download option which is an image (jpg) photo file that will be on the order confirmation page, that will be stored permanently in the customer's Purchase History and that is immediately emailed to the customer upon purchase. After saving the image file to a computer or thumb drive, the customer can print the magazine cover at home, office or a local print shop. After printing, YourCover suggests placing the magazine cover in a frame for the best presentation.
YourCover has been providing unique personalized magazine covers nationally and internationally since 2000.