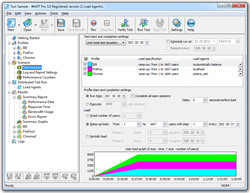 Even though formally this is a minor upgrade, new version has a number of features that really make the difference
Alexandria, VA (PRWEB) August 01, 2013
SoftLogica Inc. announced the release of WAPT Pro 3.1, a new version of their performance testing tool to test any web site, including business applications, mobile sites, and web portals, against load. The new version comes with full support for Kerberos, SSO and cookie-enabled authentication, custom performance counters, automatic proxy configuration, and more than 20 new features and optimizations.
Automatic configuration of browser proxy settings is often used inside corporate networks. In such cases the name of the proxy server is not directly specified in the browser. Now it can be determined and used for test recording in all cases.
If you use performance counters to measure the performance of servers running your web application, now you can get any counter value available through WMI or SNMP interface, which means that you can monitor any parameters provided by server software. For each counter you can now specify a JavaScript code for its calculation. Inside that code you can insert calls to functions that retrieve WMI/SNMP values.
WAPT Pro 3.1 also introduces rendezvous points inside the emulated user sessions. This is done with help of a special operator that pauses the execution of the current session and waits for other virtual users. When a specified number of users reach the same point, the execution of all sessions continues.
A fully functional evaluation version of WAPT Pro is available for download: http://www.loadtestingtool.com/download.shtml