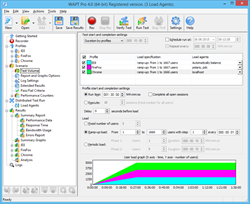 We have been working hard to deliver something that would really make a difference.
Alexandria, VA (PRWEB) September 09, 2016
WAPT Pro is a load, stress and performance testing tool for websites and web-based applications. In contrast to "800-pound gorilla" solutions, WAPT Pro is designed to minimize the learning curve and can generate a heavy load even from a single regular workstation. A basic test scenario can be created in a matter of minutes to get meaningful information about a web application performance landscape. At the same time, the product includes all of the functionality required for the testing of high performance servers, web applications that transfer large amounts of multimedia data, and applications severely dependent on the database productivity.
What is new in version 4.3:
Adjustable Test Environment: New load agents can be added to the test as the load volume requires it. It is no longer necessary to restart the test to use the new environment, which is crucial for long tests that must be run without interruption. It is also possible to replace load agents with new ones to change the load origin.
Ability to Change Load Parameters During the Test: The initially defined number of virtual users and load options no longer has to be fixed until the test is completed. Almost all settings can be adjusted on the fly. To check how a website responds to a certain load change, the number of virtual users can be temporarily increased or reduced for any profile.
Extended Log Analysis Features: When debugging tests, QA engineers always need to review logs and compare responses with the originally recorded ones. They are no longer limited to the raw text comparison for headers. Now headers are all sorted out on a separate tab, so a testing specialist can check them one by one. Another tab lets them do the same with cookies. The comparison of the page code has been improved to provide an accurate and fast result even for long pages.
Improved Error Logging Option: Error logs now contain full information on all failed sessions, not only responses with errors like before. This lets test managers check the preceding requests step by step to find the roots of the fault.
Support for SNMPv2c Performance Counters: Community-Based Simple Network Management Protocol version 2 is now fully supported in addition to other SNMP versions.
A fully functional 30-day evaluation version of WAPT Pro is available for download at http://www.loadtestingtool.com/download.shtml.