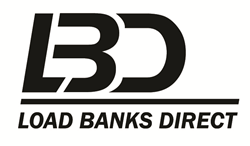 This innovative new controller is optimized for fast and accurate load testing
(PRWEB) November 30, 2015
Load Banks Direct ("LBD") is a leading manufacturer of high-capacity Load Banks used in the testing and commissioning of standby emergency power systems including generators, uninterruptible power supplies, turbines, battery systems and other load applications. Today, LBD announces the availability of an advanced digital operator control system known as Series One. This innovative new controller is microprocessor based and optimized for fast and accurate load testing.
The Series One brings many new and powerful features to load bank testing. For example, the recording of critical load test measurements is often a requirement. Now with the Series One, a local PC connection is no longer required as the controller comes configured with non-volatile memory allowing for self-contained recording capability. Other key features of the Series One include:

Master / Slave Capability – control up to 16 load banks with a single controller. Master controller auto-senses the total KW available for the entire connected fleet.
Automatic Voltage Correction - the Controller evaluates the load voltage and scales the applied load for enhanced accuracy.
Auto Step Control - easily program and launch an automatic load test with up to 10 individual KW steps and corresponding time intervals.
Load Servo Mode - the Controller will intelligently monitor the entire load test and automatically make adjustments to keep the desired load KW within a defined range.
Optional Remote Controller - can be connected and positioned up to 5000 feet from test area over a single RS-485 cable.
Fault Diagnostics - will identify over 15 fault conditions to assist the operator when troubleshooting issues.
Automatic Blower - start and stop with voltage and phase rotation correction.
Field Upgradeable Firmware - allows you to stay current with the latest control advancements.
LBD offers a comprehensive line of standard and custom-engineered load-testing solutions for mission-critical power systems. The Series One is now available on our entire line of load bank products.
For more information about the Series One and LBD, please visit us at http://loadbanksdirect.com/
Contact:
Load Banks Direct, LLC
1452 Donaldson Highway
Erlanger, KY 41018
(859)554-1534
sales(at)loadbanksdirect(dot)com