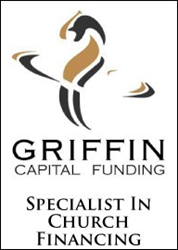 What can be better than feeling good about who your invested money is helping and at the same time be making money for my family.
Fredericksburg, VA (PRWEB) April 28, 2014
Griffin Capital Funding, a leader in church financing for over 15 years, offers new ways for a church to refinance when banks would not consider their loan.
The first church has benefited from Griffin Capital Funding's private lending side, Griffin Private Capital Group, which is a direct lender. A religious organization had a $400,000 loan that was due with a major bank. The church missed a couple of payments due to unforeseen circumstances. Although they brought the loan current, the bank re-categorized their loan as a "special assets" loan and would not refinance when their loan came due, nor would any other bank they could find.
Griffin Private Capital Group will examine why the payments were missed, where a bank will not. So the loan officer presented the non-bankable loan to the private, direct lending side. They concluded that going forward this church would be able to make its mortgage payments on time and in full, barring any unforeseen circumstances.
In addition to working to fund their loan, Griffin Private Capital Group negotiated with the church's current lender to have a large portion of their debt forgiven. The bank forgave $260,000 and Griffin Private Capital Group committed to funding the remaining $140,000 out of their privately raised funds.
How the money is raised by Griffin Private Capital Group has also changed. The investors have traditionally been close contacts, friends and family. A wider net for those contributing the funds has been created because of the private capital group's expansion, excellent due diligence on the churches they lend to, a track record that boasts no defaulted loans and a generous rate of return to their investors. When John Berardino was asked about Griffin Private Capital Group, he replied "What can be better than feeling good about who your invested money is helping and at the same time be making money for my family. Griffin Private Capital Group is growing quickly, and we are very proud to say we are helping churches that did not have an option with traditional banks."
Those interested in learning more about financing for church properties, can visit http://www.churchloans.net or call John Berardino at 540-736-7360 for more information.
About Griffin Capital Funding
Griffin Capital Funding has been serving churches for 15 years by providing church loans for the refinance, construction, renovation and purchase of almost any type of church building (churchloans.net). On average, Griffin provides over $100,000,000 a year in loans to churches. Griffin Capital Funding is one of the most well-known and respected church financing companies in the country. Griffin Capital Funding also offers loans to for profit businesses through the SBA 7A and 504 loan programs as well as offering hard money loans.