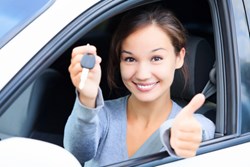 Great News for Car Buyers
Georgetown, TX (PRWEB) September 17, 2013
U.S. banks are loosening their credit requirements when it comes to auto lending, according to a September 3 article in the New York Times. Two factors are driving this increase in sub-prime or bad credit lending. The number of car borrowers falling behind on their car payments has decreased and the automakers captive lenders are gaining more borrowers with good credit scores.
What does this trend mean for consumers? "It's great news," said Mr. Yonni Rossa, CEO of the auto loan-matching service, Loans.net. He continued, "the more the merrier. More lenders means more opportunities for prospective car buyers to find loans to buy the car they want. It also means better rates and terms as competition among lenders always benefits the consumer."
Loans.net built their company on this idea. "Our website is created around the idea of lender competition leading to benefits for borrowers," stated Mr. Rossa. "We've put together a network of flexible lenders willing to provide loans to borrowers, even if the borrower has credit issues."
How does the site create competition between lenders? "The process is quite simple," explained Mr. Rossa. "We have a brief, easy-to-complete application on our site. The potential borrower fills it out and then our technology matches the application with hundreds of willing lenders. The auto lenders provide the borrowers with their loan terms and rates and the borrower chooses the best one. Instead of going to one bank or one car dealership and being locked into one offer, our customers receive a wide-range of financing options they can compare and choose from."
Why is this better for the borrower? "Think of it this way," stated Mr. Rossa, "if you walked into a car dealership and they had a hundred loan officers giving you their best offer, don't you think you would get better terms and rates? But, that's not how it works, you deal with one financing person and they control the process and typically work with one or just a few auto lenders. That's why they are called captive lenders. We work with a multitude of auto lenders and they have an incentive to give the car buyer their best terms and rates since they know they are competing with other lenders."
Banks operate much the same way. As the Loans.net's CEO explained, "You would literally have to drive to a hundred different banks and fill out a hundred applications to create the competition between lenders that we have designed on our site. On Loans.net, it takes you less than five minutes to get in front of that many auto lenders."
With sub-prime auto lending on the rise, it looks as if car buyers will flock to auto loan-matching sites like Loans.net that offer better car loan terms and rates by promoting competition among auto lenders.
Visit http://www.loans.net for more information on auto loans or to apply for an auto loan.